Sleep Writer series has a brand new set of covers
As I embark on a new adventure writing the next book in the Sleep Writer series, it's a good time to update the cover art for the old books. I started messing with them back in October 2016 (see my post from a whole year ago!) and sorta-kinda settled on a new style.
Here are old covers: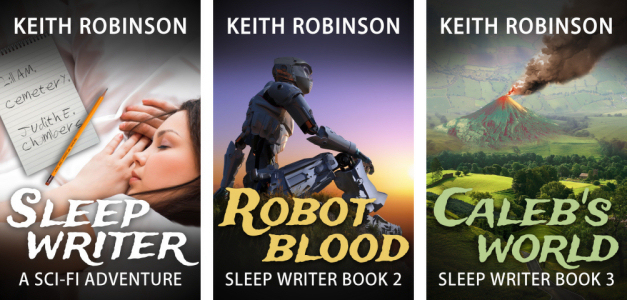 And here are the new ones: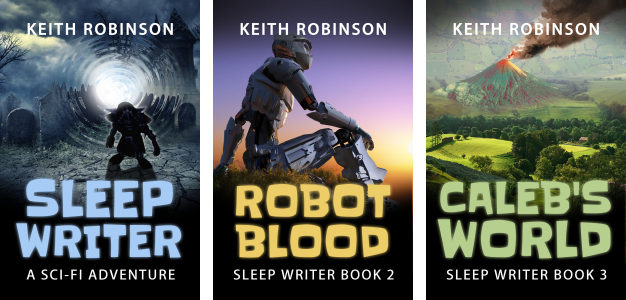 The main reason for the change is that I got wind of readers thinking Book 1 was a supernatural teen romance. Well, it's sort of supernatural, and it has a teen girl in it, and there's a hint of romance... but it's not a supernatural teen romance. It's a middle-grade sci-fi adventure, and I think the new covers show that a little better.
So the biggest change is the first cover, which now shows an alien emerging from a wormhole. The font is updated on all three covers to a "younger," more sci-fi adventuring style.
If you haven't already given this series a try, now's a good time, because the fourth book will be out in a few months.
"For my taste this is one of the best novels I've read regardless of genre; it haunted me for several days after I read it. Read this novel regardless of your age; I doubt you'll be disappointed, and your mind may be stretched a bit. The final ten percent blew me away." – Piers Anthony, New York Times bestselling author of the Magic of Xanth (full review at HiPiers.com, July 2015 newsletter)

Buy now at your favorite store or in print
Book 4, Warp Giants, is a little different to the others in that it's planned as a collection of novellas in one volume, so it's like three short books in one. The titles are:
Flying SaucerMind SwapWarp Giants
These may change, but I have a solid footing to work from. There will be an opening chapter introducing Ant's new chauffeur (a nosy woman who digs a little too deeply into the affairs of Liam, Ant, and Madison), and that'll lead into Part 1, "Flying Saucer." The next ten chapters or so will be about that particular adventure. Then, after some more chauffeur wrangling, it'll be onto Part 2, "Mind Swap," for another ten chapters, and finally to Part 3, "Warp Giants," perhaps the most epic adventure of the collection. At the end, there will be an extra chapter or so to put an end to the chauffeur's nosiness once and for all.
Overall, it will feel like one complete novel but with three individual stories (four if you count the arc).
The idea of linking stories together in this way came from my current project, Tails of a Shapeshifter, which is now finished and due for publication this month. More on that soon.
Post a comment...
Blog posts by date...
December 2017
November 2017