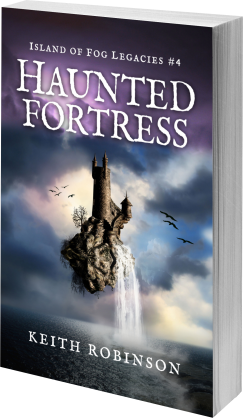 Get the fourth book in the Island of Fog Legacies series! Young shapeshifters Travis and Melinda are tasked with visiting the infamous Haunted Fortress to uncover its dark secrets. With Travis as a super-heated cherufe and Melinda as a naga girl, their two-pronged mission is to melt an unmeltable block of magic ice and debunk a ledendary phantom. Available in print for $11.95 and as ebooks from the following stores:





About the Author
Keith Robinson is the author of various fantasy and sci-fi series suitable for all ages. He is best known for the popular Island of Fog series. He publishes 3 books a year, most recently Gargoyle Scourge (Island of Fog Legacies #3) in March 2017. More
Current Projects...
Haunted Fortress (Island of Fog Legacies #4) – published! Buy Now
Tails of a Shapeshifter (Island of Fog Chronicles) – about 70% complete
Latest Blog Posts
August 2017
Books by Keith Robinson
The ISLAND OF FOG series follows a group of 12-year-old children who discover they're shapeshifters, able to transform into creatures of myth and legend. They find themselves up against dangerous monsters and powerful enemies in this action-packed fantasy adventure saga. There are 9 books in the series, plus an omnibus trilogy edition (first 3 books), and also some spin-off Chronicles that complement the series.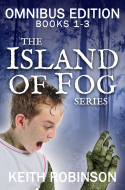 The ISLAND OF FOG LEGACIES series takes places twenty years after the original Island of Fog series. Travis Franklin, the twelve-year-old son of famous shapeshifters Hal and Abigail, is now embarking on his own missions along with his 'cousin' Melinda Strickland, eleven-year-old daughter of Robbie and Lauren. There are currently 4 books in this series, with plenty more to come. Book 5, Death Storm, is in the works for publication in Spring 2018.
The SLEEP WRITER sci-fi series features twelve-year-olds Liam and Ant and the strange girl next door, Madison, who has the unearthly ability to write herself cryptic messages that lead to aliens, monsters, and ghouls. The three are plunged into one freaky adventure after another. There are currently 3 books in this series, and Book 4, Warp Giants, is in the works for Christmas 2017.
The WORLD OF APPARATUM is divided. To the west lies the high-tech city of Apparati, governed by a corrupt mayor and his brutal military general. To the east, spread around the mountains and forests, the seven enclaves of Apparata are ruled by an overbearing sovereign and his evil chancellor. Between them lies the Ruins, or the Broken Lands – all that's left of a sprawling civilization before it fractured. Hundreds of years have passed, and neither world knows the other exists. Until now. This is a 2-part story, co-written with Brian Clopper.
QUINCY FLACK is a troubled young man cursed with seemingly random good luck and terrible misfortune. When he meets Megan Mugwood, he unitentionally sets off on a quest to uncover his past... and make it through the next day alive. This is a standalone novel told in a unique way – with each chapter taking the the point of view of different characters popping up along the way. It's a complex, tightly-woven plot that comes together at the end to form a complete picture. A sequel, Quincy's Journey, is planned for the future.