Sci-fi and fantasy novel Fractured is ready for beta reading
Yesterday, Brian Clopper and I wrapped up the main round of editing on our collaborative sci-fi/fantasy novel Fractured. There are a few minor things to do, and we both want to read it all the way through again to catch any further typos and things, but it's mostly done.
That is, it's ready for beta reading, after which there will likely be another round of minor edits.
Anyway, while we do a read-through, I'd like to go ahead and start compiling a list of beta readers if anyone is interested. Don't forget, this novel will be a free ebook when it's released, so it'll be free whether you read it now or later. But of course the best beta readers are not interested in whether it's free or not. The best beta readers are interested in getting involved, offering their input and seeing their suggestions taken to heart, as well as pointing out many embarrassing mistakes the author(s) didn't catch. The bonus is that you get to read it early, months before its release. The downside is of course that you're reading a not-quite-so-polished version.
So what's it about? Well, here's the "back cover blurb" as it might appear if we actually had a back cover: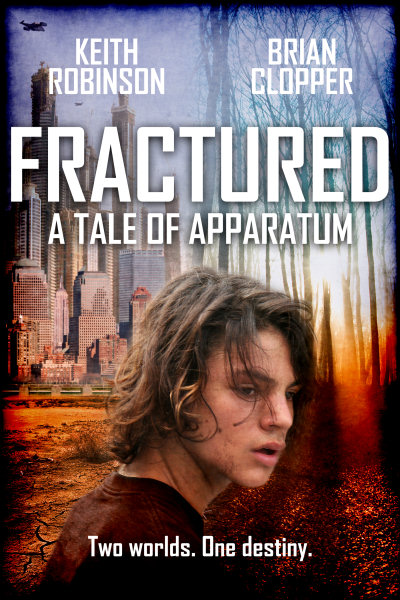 Fractured: A Tale of Apparatum

The world of Apparatum is divided. To the west lies the high-tech city of Apparati, governed by a corrupt mayor and his brutal military general. To the east, spread around the mountains and forests, the seven enclaves of Apparata are ruled by an overbearing sovereign and his evil chancellor. Between them lies the Ruins, or the Broken Lands – all that's left of a sprawling civilization before it fractured.

Hundreds of years have passed, and neither world knows the other exists.

Laws are harsh. Two young fugitives – Kyle from the city and Logan from the enclaves – escape their homes and set out into the wastelands to forge a new life. But their destinies are intertwined, for the separate worlds of Apparati and Apparata are two faces of the same coin... and it turns out that everyone has a twin.

This novel is the first part of a 2-part story, although the book is complete in itself. The second book explores another aspect of the story, a natural extension of the first, but will be entirely optional. For sci-fi and fantasy fans aged 9 and up.
The previous round of beta reading for Chamber of Ghosts worked out well, and so the same "rules" will apply here. Here they are again, slightly revised:
What is a beta reader?
As Wikipedia says, a beta reader is "a person who reads a written work, generally fiction, with what has been described as a critical eye, with the aim of improving grammar, spelling, characterization, and general style of a story prior to its release to the general public."
You don't have to be a professional proofreader or anything like that. We just need avid readers of the sci-fi and fantasy genre who are willing to provide some feedback with regards to anything that seems slow, silly, unrealistic, too dark, clunky, confusing, and so on – basically drawing attention to anything you feel could or should be improved. Also, some of you might be adept at catching typos and grammatical issues, all of which would be gratefully received and dealt with.
How long do I have to read it?
We'll give you exactly three weeks from the day we send you the book.
Where will readers find the published book, and will it really be free?
We'll be publishing Fractured primarily to Kobo and Apple's iBookstore, and various other places that offer free ebooks.
Because it will be free, it won't be available on Amazon straight away. If and when we put it on Amazon, we'll have to price it at the minimum $0.99, and then it'll be in Amazon's hands to hopefully price-match it to $0.00. Barnes & Noble doesn't price-match, so it'll never be free there.
However, it will be available on our author websites as .epub and .mobi files, so Nook and Kindle users will be able to sideload it at any time.
Do I have to review the book afterward?
No, you don't have to, but ratings and reviews are always welcome. The thing about beta reading is that the book may not be at its very best – hence why you're beta reading. So if you read it and find things that could be improved, you would need to take that into account if and when you rate and review it. For instance, you might think it's a 5-star rating but only if a particular bit is rewritten, otherwise it's only a 4-star rating. And for that reason, we would suggest holding off on your review until you've seen the very latest pre-release version, or at least the relevant updated text.
What we don't want to happen is for beta readers to have posted reviews saying, "It was great apart from this really daft bit," when in fact that really daft bit was edited out before publication. So if you do rate and review the book, please take last-minute changes into account.
Where and when should I post a review?
You'll be able to post a review on Goodreads weeks before launch date because we'll have a book page set up already. After that, you can post reviews anywhere the book is available for download.
Do you care what rating I give your book?
Heck yeah! Ratings are very important, particularly in the early days. I do want you to be honest, though, so if you think the book is only worth 3 stars or lower, then fair enough – but then please don't rate it. No rating is better than a low rating! I'm hoping for 4- or 5-star ratings only, so if you think the book is worth it, then please shout it out.
In what format will the book be available for beta reading?
For beta purposes, Fractured will be available as a Kindle .mobi file or a standard .epub file that will work on Nook or other electronic readers. We'll also make it available in .pdf and .doc format if necessary. You'll need to let us know what format you prefer.
It won't be available in print.
So there you have it. If you want to be a beta reader for Fractured, please comment below or, if you prefer, email me at keith@unearthlytales.com, or even leave a comment on Facebook. Don't forget to let me know what format you'd prefer the book in!
Sign me up!
Hi Keith, can you please add me to the list of beta readers? Thanks!
Brian and Dwayne, considered yourself added! :-)
Would be happy to give you a read.
Looking forward to it.
Sherry and Kat, you're added too. Thanks muchly!
I would love to read for you!
Okay, Marti, you're on the list — and just in time, as I think we're getting close to having enough beta readers what with the five above plus those who have contacted either Brian or I through Facebook and email. :-)

We'll be in touch shortly, most likely this weekend.
Enjoyed meeting you tonight, Keith! Would be glad to help out as a Beta reader for Fractured!
You too, Chuck! Okay, you're on the list. :-)
It was a pleasure to meet you this evening! I would be happy to help with the beta reading if you still need anyone.
Of course, Beverly — I'll add you to the list and get back with y'all later this weekend. It was good to meet you too. Speak to you soon!
hello remeber me from the rossvile libray book club (I was the only othe guy in the room). If you don't mind then I really would like to be a beta reader.
Gotcha, Hakeem. Already on my list. Thanks! :-)
Keith, one additional suggestion is for you guys to publish on Google Play Store/Play Books.
I'm finishing up a couple of reads right now. I've done a lot of writing of my own and critiqued others. I would love to read "Fractured" and reply with comments. If you're still needing readers, please add me to the list.
Dwayne, that's one of a few places I need to look into more for sure.

Steve, I'll get back with you in a little while by email. :-)
I would love to beta-read Fractured.
Post a comment...
Blog posts by date...
December 2017
November 2017