The ISLAND OF FOG series follows a group of 12-year-old children who discover they're shapeshifters, able to transform into creatures of myth and legend. They find themselves up against dangerous monsters and powerful enemies in this action-packed fantasy adventure saga.
(Island of Fog Books 1-3 - $6.99) This special omnibus edition combines the first three books of the Island of Fog series into one adventure-packed volume at a great price. The omnibus contains Island of Fog, Labyrinth of Fire, and Mountain of Whispers, and these three books form a complete, standalone trilogy. Follow the mystery and excitement as Hal Franklin and his friends discover who – and what! – they are. If you enjoy this trilogy, you can collect the rest of the series for even more action!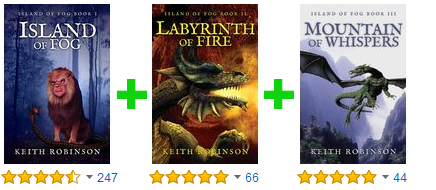 Want more? Check out these FREE short stories featuring characters from the series, only available on this website. All you have to do is sign in or, if you're new, subscribe to the blog.
Also look for the new ISLAND OF FOG LEGACIES series, which picks up twenty years after the original series and follows young Travis Franklin, son of Hal and Abigail, as he becomes a shapeshifter and launches into action to patrol the boundaries between Old and New Earth. Book #1, Unicorn Hunters, is available now. See below.
Scroll down for information and "buy now" links for ALL books and novellas...
All nine Island of Fog books
An omnibus edition featuring the first three books
Eye of the Manticore, the first of a brand-new series of novellas
Monsters in the Fog, a collection of short stories retelling the Island of Fog story from multiple perspectives and allowing you to witness firsthand each classmate's initial transformation
Unicorn Hunters, the first book in the new Island of Fog Legacies series
Country: US