Completed book, forthcoming books, audiobooks, book sales, book covers, and... darkness!
This is a round-up of stuff that's been happening in the last month or two. Look, I may not have posted here in a while, but that doesn't mean I haven't been busy!
The Next Book in the Island of Fog Legacies
I asked two regular, eagle-eyed beta readers for their input on Haunted Fortress (Island of Fog Legacies #4), and they offered excellent feedback as usual. After wrestling with the final 6-8 chapters to make events cleaner and clearer, I'm happy to say the book is now complete. I'd also like to ask a couple more beta readers for their opinion, which I'll do privately (though feel free to request a copy if you'd like). I plan to publish the book this month.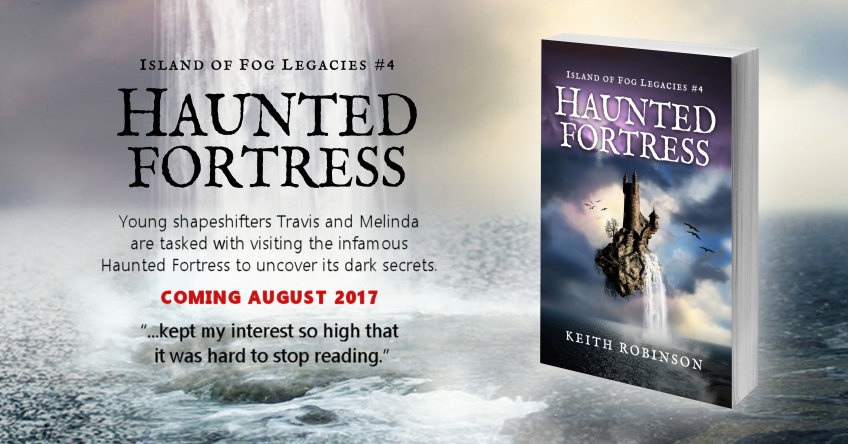 And now I'm already thinking about Book 5 in the series. The basic plot is there, but I need to work out some details. I do believe New Earth is about to change, and not in a good way. Imagine if all the characters we know are suddenly different, unfamiliar. That's what happens when the giant brain under the ground decides to shake things up a bit. Only Travis (with Melinda alongside) can fix this mess.
As usual, I'll outline all this and really hammer the thing out. Once the outline is done, I can safely put it aside for now and work on something else...
The Next Book in the Island of Fog Chronicles
Yes, Tails of a Shapeshifter is the next planned publication after Haunted Fortress. It's a series of short stories connected with in-between segments. Many of the stories were previously published here on this website, but I'm adding three new ones plus some other brand new material, so the book should feel pretty fresh and new. And after that...
The Next Book in the Sleep Writer Series
I decided to try something different with the next book in this series, Warp Giants. The first three were full-length novels, but Book 4 will be a number of interconnected novellas of varying length. Think of it like a TV show "season" where each story is independent but perhaps following an arc. In this "season," the characters (Liam, Ant, and Madison) will go off to other worlds to battle aliens while dealing with Ant's new chauffeur, who is nosy and terse. Also, Liam is now living in a temporary residence while his demolished home is rebuilt.
Warp Giants will be one of these novellas, certainly the most epic.
Listening to Audiobooks While Driving, Painting, Feeding Animals, etc
My wife has been listening to books on Audible for years now. She started around the time I published my first three Island of Fog installments as audiobooks. In fact, as a publisher, I get 25 free credits for each book. Well, naturally I gave those to my better and far more deserving half.
Recently, I thought I'd give it a try. Previous attempts to listen to an audiobook resulted in my falling asleep. The sound of a voice in my head always has that effect on me, especially while reclining in my chair after a hard day's work. But since I make a 35-minute journey three mornings a week, I've started listening to Audible... and I'm loving it. I've been listening while painting a room, feeding somebody else's dogs and chickens, and generally running errands (not all at the same time). In fact, since my wife was listening to another book while we were painting the room, the house was oddly silent. Our daughter started listening to YouTube (very quietly and respectfully I might add), and we could hear her tiny laptop speakers through her bedroom door. We told her to stop being so rude and obnoxious and put some earbuds in.
Admittedly, I didn't much care for the first random choice on my wife's book list – one of Joe Hill's short story horror compilations. I heard two and decided that was enough. Joe Hill's not as wordy as his dad, Stephen King, but he still rambles, at least in my opinion. Maybe I'm just not into adult literature anymore. I seem to prefer young adult or middle grade! And then I listened to Mike Mullin's Ashfall: Darla's Story, and couldn't get enough of it. I went on to the first full Ashfall novel and enjoyed it. Sadly, the second and third books are not out on Audible, so I've had to buy Book 2 on Kindle. Reading while driving doesn't seem safe to me, so I've resorted to reading a few chapters late at night.
I wish I could read my own books and do a half-decent job. But aside from needing a naturally buttery voice (which I don't have), narrating takes an awful lot of skill and practice, not to mention decent recording equipment. The narrator of my books, Fred Wolinsky, told me once that he spends about 10 hours in post-production for every hour of the finished book. There's all the clicks and hisses to tidy up, the volume discrepancies, the pacing, just about everything. If you read a page and then take a quick toilet break and continue, the join is noticeable – not for any technical reason, just that you might be a fraction closer to the microphone, or you have a slightly faster heartbeat and your voice is more breathy, or you're in a marginally different head space. I picked up a few places in Fred's recordings where the volume of his voice rose just a tiny, tiny amount. All these things need fixing.
So... I don't think I'd have the patience or indeed the skill to be a narrator. Plus, my voice isn't deep and buttery. And then there's the fact that I'm British. I'm self-conscious that I pronounce words a bit different to Americans, and I think it might be off-putting for a primarily American audience. Maybe.
Although, speaking of a primarily American audience, maybe that's not the case anymore...
Amazon US is No Longer the Biggest Egg in my Basket
In the last few months, I've noticed that Amazon UK sales have risen to match and even beat Amazon US sales. Suddenly, the spreadsheet I use to record sales and estimate the current month's profit is no longer very useful, because for years I've only bothered recording Amazon US sales; anything else was just a bonus. I could write up the US sales and, sure enough, that's what I'd make in profit plus a little extra.
Now I've beefed up my spreadsheet to include both US and UK sales, and it's much nicer to look at these days, with double the book sales, double the profits, etc.
Not only that, but Barnes & Noble's Nook sales have greatly improved since about January 2017, with some of the monthly profits getting close to matching Amazon US.
Why the sudden improvement? I don't know, but I'm not complaining. Actually, sales halved a couple of years back for some inexplicable reason, so this sudden jump really just puts me back where I was before.
Fun Designing Book Covers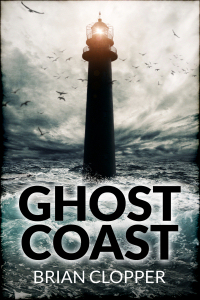 Recently, I put a cover together for Brian Clopper's newest work-in-progress, Ghost Coast (due out in September). I don't claim to be the best cover designer, but I do have fun with them. Sometimes they click, other times they take forever to get right.
Anyway, he'd already come up with suggestions, so I went with those ideas... and eventually abandoned them. It's easier to read about this and see the various mockup covers on his blog here:
Cover Design Process with Humor
I think this is a pretty powerful cover, and oddly enough reminds me of Haunted Fortress, due out a month earlier. Both have structures standing/floating in the sea, and both are ghost-related.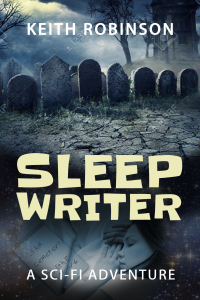 And on the subject of book covers, I want to revisit an earlier post where I pondered a new design for the Sleep Writer series. I aim to redesign them all before the release of Book 4, Warp Giants.
I'd come to the conclusion that the current cover isn't "sci-fi" enough. It's more teenage romance or something. So I want to change that.
In the end, I decided to go with the version at the foot of this page, in the comments section, the one with the graveyard on the front. It has Madison at the bottom, "dreaming" of the graveyard that will bring her together with Liam and Ant and change their lives forever. I think this cover has everything I need – a creepy sci-fi/paranormal feel, a title font that fits the middle-grade target audience, and a way to integrate Madison's "sleepy state" with the subject of the book. Madison will be at the foot of each book, tying them all together.
And finally...
Total Solar Eclipse on August 21
This is worth mentioning. I mean, it's a total eclipse of the sun for those who live in a specific "path of totality" across the USA, and a pretty spectacular partial eclipse for the rest of the USA. Here's a detailed map showing the cities that will be plunged into darkness:

Click for larger detailed image
I live in Chickamauga, Georgia, but we're just a short drive from Tennessee, so we might take a ride north of Chattanooga and take our flashlights with us, because it will be very, very dark there for a few minutes. I'm hoping there will be people completely unaware of the impending event, in which case I can stand on the street and wave my arms around and shout "The end is nigh! THE END IS NIGH! Heed my warning!" and watch with glee as darkness descends in the middle of the afternoon and people start running and screaming.
We've taken the day off work. Will you?
Hi keith. I was starting to think you had made enough to retire. Haha.

I'm looking forward to book 4, it looks good and I'm sure it reads as well as the rest. If you need an extra beta reader, im free if its any help to yourself.

Glad to hear your UK sales have increased again.

Hope you get a good view of the eclipse, I love things like that.

All the best
Hey Graeme — no, still here. Not QUITE ready to retire yet. :-) Thanks for offering to beta read. You'd be most welcome! I'll be in touch tomorrow.
Eclipse? Love your idea Keith! I'm actually getting our family glasses and I'll be headed a short drive on the 21st also! I might mention your idea of shouting the end is near to my 2 boys to see if they'll do it!
Yes, see if they will, Ben! And report back here, if you don't mind. :-)
Post a comment...
Blog posts by date...
December 2017
November 2017