Valley of Monsters (Island of Fog, Book 7) is published!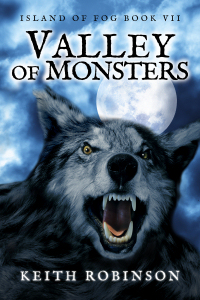 This is a quick post to announce that Valley of Monsters (Island of Fog, Book 7) is now available to buy for your Kindle at Amazon US and Amazon UK and Amazon AU and so on. It's also available for the Nook at Barnes & Noble.
I've been so busy lately that this launch has turned out to be a quiet affair! Reviews are coming in already though, such as:
Robinson once again delivers a story that drives the series forward. The dual narrative shows how Hal deals with his newest hairy predicament alongside the early adventures of Chase. I especially liked the wonderful twists as they sought out the sphinxes and found my blood racing in the sequences where Hal battled with his inner demons.
Another excellent addition to the series. These are wonderful books for the 10-12 year old crowd. My son loves this series. Be sure to share these books with your children. They are good reads for adults too.
This seventh book in the series kept me hanging on until the final moment. I love the moral issues that it casually raises, having the characters examine their own motives as well as recognise others' viewpoints and perceptions without feeling the slightest bit 'preachy'.
OK – first off, I do not hand out five star reviews easily. I'm kinda demanding of authors. Even the masters, like Dean Koontz, don't get 5 stars for every book. Just doesn't happen. This one didn't just hold my attention. I got thrilled and chilled, cared about the characters, felt like I was there, and would pay much more than the asking price for this little gem. I've read the series more than once and just don't want it to ever end. I recommend this book, and the series, to kids and adults alike.
Great series for the whole family. I purchased the first book for my daughter, but read it first. After the first book I was hooked. Each book adds more to the story that I can not put down.
Get your copy today! Currently available on Amazon and Barnes & Noble only, but soon to be Kobo and Apple. Printed editions will be available in a week or two. Stay tuned.
Congrats, Keith! Looking forward to reading the new book.
Thanks, The Rog. :-)
Amazing books I kept reading the series I'm started on my eighth time of reading the series I love your books and can't wait for more. :-) I hope for a movie series
Me too, Jordan! :-) Thanks for the kind words.
Post a comment...
Blog posts by date...
December 2017
November 2017