Using a Chromebook for novel writing and editing
Now that I've finished Unicorn Hunters and worked through comments and corrections, I'm reminded again how useful Google Docs is. So this post is for those who write or are in any way interested in my methods.
It's worth mentioning that I started AND finished the first draft of Unicorn Hunters in January 2016, and here we are midway through March and it's just about to publish. This is a huge achievement for me, yet it didn't seem to be as much effort as previous books have been. I'm not sure if it's because I enjoyed it so much or because I disciplined myself into writing a bit every morning and night and getting 2000 words a day completed. Maybe both. Either way, two months total for one complete novel? That's a record, and I know I can do it again.
Something else that helped enormously is what I wrote it on. I used to write in Word. Then I would transfer the novel to Google Docs so that my author buddy Brian Clopper could do a first-sweep beta-read and leave comments throughout. I then adjusted and produced a Kindle version, and I typically read that "fast" to see if anything else jumped out.
These days it's different. Last year I bought myself a Chromebook, which is an inexpensive laptop with a Google OS (not Windows) that is centered around apps from the Google app store. Google's Chrome browser is of course already installed, as is Google Docs, which is like a cut-down online version of Word, completely free.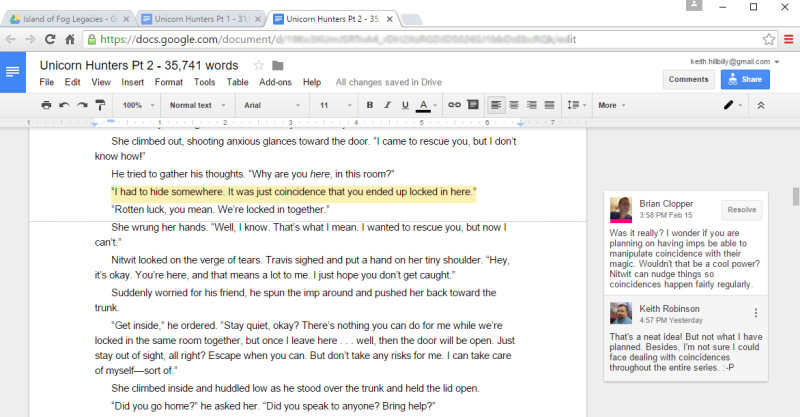 My Chromebook is small and lightweight with around 8 hours of battery life and a super-fast "wake up" like a tablet. It's ideal for writing and editing on the go. Of course it works better when connected to the internet, but Google Drive works offline too; it just continues as normal until you get back online, and then it re-syncs with the cloud.
That's the thing about Google Docs. It saves to the cloud as you type, and so if you have to quit suddenly or the battery happens to die, you don't lose a thing. I can write half a sentence on the Chromebook, shut it down, open the document on my tablet or phone, and type the rest of the sentence. (Of course, while editing and commenting is easy on small devices, writing is obviously much better done on a laptop with a proper keyboard.)
Anyway, the point is that my writing productivity has increased quite a bit. The 11.6" Chromebook is more portable than my 17" work laptop, and its battery lasts eight times longer. I can much more easily read and edit in the living room instead of making a decision to go to my office (which oftentimes means I don't bother). And I can very easily sit in the van and write for two hours while my daughter is at basketball practice.
So, once the book is written – and I usually separate it into two or three chunks just because it can get a tad sluggish when you're up above 30,000 words – I share it with Brian. I just set the permissions for the document (I choose from three options: Edit, Comment, and View) and allow him to comment. This means he can highlight bits and write comments in the margin. But also, there's a fantastic "suggestion" mode that allows him to actually "edit" the document text; his suggestion is in pale grey, and it's saved as a comment that I can either accept or deny. Very cool.
I can't say enough good things about Google Docs. I'm sure other people have their preferred methods, but nothing comes close to this for sharing. When we're both online at the same time, I can see his comments appearing on the side, and I can reply instantly like it's some kind of chat tool.
Anyway, just thought I'd share in case anyone is interested!
Thanks for the post, I just recently bought a new Chromebook after my laptop crashed, I write mystery short stories and want to branch out into the kindle market, do you have any suggestions to go from google drive to a text formatted for kindle publishing?
Since I'm a website designer by day, I built my own ebook tool that makes it very easy for me to import my book and convert it. You're welcome to try it, but if you want any images within the pages, then it's no good to you. It's a text-only tool (complete with cover, of course). Go to http://www.unearthlytales.com/epub.

So, here's the thing. I normally download my Google Doc as a Word .docx file, then open it in Word and save it as an .html file. I then import the .html file into my tool, and it instantly splits it into chapters and works perfectly... at least for me! Then I have an .epub file, which can be imported into Amazon's Kindle Previewer tool to generate a .mobi file (and the .epub file can also be uploaded directly to KDP).

But you're using a Chromebook only, so I guess you'd have to take your Google Doc and save it directly as an .html file. This makes more sense, right? Except that for some reason Google does an even worse job of creating an .html file than Word does, and I found it often ran into problems and generated errors during validation. Still, you can try and see what happens.

Basically, if you use my epub tool, you can either copy-paste each chapter manually, or you can import the whole shebang — but I can't guarantee it won't run into problems. That's why I don't advertise it. Too many gnarly issues. It works 100% perfectly for me, but that's because I programmed it with me in mind. :-) Generally speaking, though, if you have the word "Chapter..." between each section of text, that's how the document will be split during import.
I used Word 2013 on my PC and laptop with MS 365 account to do much the same thing. The only difference was I preferred syncing it to the Word app rather than work in the Web version.
Thanks for sharing this article! I am so with you in your opinion of Google Docs! I find that there is no better tool in the way of writing. Some people use Dropbox, and that's... decent, I guess. But Docs is something else... You might not have tried this yet, but some versions of Google Docs supply the ability to create spreadsheets, slides, graphs, and more!

Wow, I just realized just how much like a TV advertisment I sound like. Oops. Well, you get the idea; I love Google Docs.

Anyway, thanks for sharing, and keep up the good work!
Brian, I never tried the syncing-with-Word thing. But how does that work when sharing with another reader for proofing and critiquing? Or maybe you just have another method.

Wondering Wanderer... Google has Slides and Sheets in addition to Docs, so technically speaking, they're not PART of Docs but separate components of an office suite similar to Powerpoint, Excel, and Word (only free). Oh, and I use Dropbox too, but not for writing. It has its uses though!
Keith, I don't collaborate with anyone when writing/editing.
In 365, you can share the document by inviting them, to read or edit, and it tells you if they are editing in real time -highlighting the words they are typing etc. However, I don't think the chat collaboration functionality is as good as Google's (yet).
Great article! Thanks for sharing!
I am brand new at this little Chromebook which I just bought with intentions of becoming a writer. All my life everyone has constantly told me that I should become a writer because I've had such an exciting life and told such great stories. Can you tell e which writer's program would be the best and most simple for me to begin my novel writing and short stories? Also, once I have written these stories, how do I then send these novels to companies from Writer's Digest or whatever (send it by mail or on the computer from the computer, and do I need to copyright all these stories first? I was told if I enclosed them in an envelope and mailed it to myself unopened, it serves the same purpose. My only selfish dream for myself is to be published before this cancer gives me my exit visa from this earth. Oh, that was my last question. What about self-publishing and selling directly from the internet? I figure I can put out at least a story every two weeks as i'm pretty fast at typing. Can you answer these questions for me and help my dreams to come true? I have 3 children's stories , a western, 1 religious story, and 2 autobiographies to do. I had 35 stories but someone whom I trusted took my old computer to backup all my books and data and she stole the entire hard drive and memory. I learned a very hard lesson and I want to get this done before I have nothing to leave my granchildren to be proud of. Please, can you help me?
Vicki, I tried emailing you, but both addresses you supplied failed. I'll post my reply here instead:

>>> Can you tell e which writer's program would be the best and most simple for me to begin my novel writing and short stories?

Since you have a Chromebook, I would go ahead and use Google Docs. There's a Google Drive app on your computer, a sort of online hard drive that opens in your Chrome browser. It gives you plenty of space for your work, and if you click to create the red "NEW" button and create a new Google Doc, you'll find it's a full (simple) word processor. It saves as you type, which is great.

>>> Also, once I have written these stories, how do I then send these novels to companies from Writer's Digest or whatever (send it by mail or on the computer from the computer)

You'd have to check with each company and see how they want the story delivered. Many will say "send by email," but they'll also say "no unsolicited stories," which means you'll have to write a submission query and maybe attach part of the story, and if they're interested, they'll ask for more. But every company/publisher is different.

>>> do I need to copyright all these stories first? I was told if I enclosed them in an envelope and mailed it to myself unopened, it serves the same purpose.

Yes and no. To be clear, ALL written work is automatically copyrighted by American law (assuming you're in America) the moment you write it. The problem is proving it. So actually what you're seeking to do it REGISTER your already copyrighted work. The best and most official way is via http://www.copyright.gov. It takes a while, and it's not free, but apparently it's the only sure-fire of proving your copyright. I registered my first few books, but honestly I got tired of the process. Still, I have plenty of online presence and history nowadays to prove my case.

You might want to check out this article I wrote years ago about a case of copyright infringement for short stories:

http://www.unearthlytales.com/author-copyright.html

>>> What about self-publishing and selling directly from the internet?

Use Amazon's KDP service:

https://kdp.amazon.com

There's so much involved in this whole process that one email isn't going to help much. I would recommend you do a lot of reading, but you can start with my own blog here. At the bottom of the page, click where it says "show/hide all previous posts" and have a browse through. I've talked about CreateSpace quite a lot (where you can print your books for almost no cost) and Amazon KDP for Kindle ebooks, among other things.

Good luck!
Thanks for the post, I found it useful to read when I was considering buying a Chromebook. I purchased one in the end, and this blog helped to decide- so thanks again! Also, if anyone is interested, I wrote a similar article on my blog about Google Chromebooks.
Thanks for the very helpful article.

I'm an author of non-fiction and currently have ten books on Amazon Books. The first five were written in Word 2003 and 2010 then I switched to Atlantis Word Processor for the next five. Now I am working on two more books using LibreOffice Writer and like it very much. I do all this on an older HP desktop with Windows 7. My Dell laptop sits idle except when I am teaching a class.

But I am currently looking at Chromebooks on Amazon and plan to buy one soon. Since I would be using Google Docs on it I wanted to get started familiarizing myself with it so I downloaded it to my Win7 machine and have started a book there. I have found that doing a project in any given software is the best way to learn it. Now I am working some of the time in LO Writer and some in GD. This latter will prepare me to make the switch later to the Chromebook.
Honestly, I cannot thank you enough for this!! I've been skeptical about using this Chromebook (I just bought it) because I wouldn't be able to download proper writing software and I didn't really like using Google docs when I was in school. Then I found your article and decided to give Google docs another try. I have two other people who edit my stuff as well and my gosh, all I can say is I love Google even more! It really does help especially with editing and it's super easy to transfer to Word afterwards. Thank you!
Love the article. Question how hard is it to move chapters around,etc for editing. I found Microsoft Word to be a headache. I used Scrivener in the past and way easy to move things around.
Glad this post has been of use, guys! :-)

Eimilee, moving text around in Google Docs, as in Word, is basically done by copy-paste. Honestly, though, I find it strange how many authors look for a function to easily move text around. When I write a novel, it stays pretty much in the order I write it. I find it odd that the chapters of a novel could even be considered "moveable." I might move a scene or two, but I certainly don't need all those re-arranging and indexing options that Scrivener provides. Each to our own, I guess!
I am a chromebook owner/user and have been for over a year! I love my chromebook and will not go back to using a Windows OS anytime soon. I still do not feel as though I got a definitive answer here about how to perfectly write an ebook on docs and submit it to Amazon's KDP for proper formatting, however, I did watch a youtube video today that was created by an author with books in Amazon KDP and he said with certainty that kdp can take your book from word, docs, even pdf and reformat it so I am going to check further into that claim before settling for writing my book in docs and hoping for the best!
I will be looking at several chromebooks today but my main concern is printing. Can I connect chromebook to my wireless HP printer to print from Google Docs, Excel?
I don't see why not, Autumn, but that's really a question to ask the manufacturer or store. I'm pretty sure I've printed from mine to my wireless printer in the past.
If I write & print offline without ever connecting to web - does Cloud make copy? Also, which Chromebook has writer-friendly keyboard?
This article came up on my search to discover if writing novels on Chromebook would be feasible / advantageous / relatively simple. You've helped a great deal. My husband's laptop died a couple of days ago - we have identical ones. Since I'm the writing one, we've decided I get new and he will have my old (less than 3 years but that's how it goes).
I'd already been researching Chromebook in its more modern version - not just a glorified search engine in a posh case. I'm about 75% certain now and not entirely certain about the other 25% - what's holding me back? Perhaps it is tradition? Scepticism? My age!
What I do know is this - writing on my smartphone has to cease soon! Thanks for the information. Now I'll check out the rest of your site.
Will, your Chromebook will save a copy locally (on your computer) until you connect to the web, but almost everything works the same regardless. As for keyboards, I think they're all writer friendly!

Glad my article helped you, Shirley. Chromebook or not, I use Google Docs exclusively now. Seamless writing and editing between devices. I write on my PC and Chromebook, and I read and edit on both plus my phone.
Keith Robinson:
Thank you for this. I found it via a search on my Hewlett-Packard/Google/Chrome/Chromebook [whichever - there you have it] laptop computer. My browser question was: does chrome have a manuscript editing service

I will be subscribing to your blog.
Thanks, Barbara! I don't think Chrome has a novel editing service, but I do! Check at the top of this website for Novel Proofreading. Maybe I can help?
Thank you for the interesting post, I was about to purchase a normal Windows laptop until I read your post then I did some research on Chromebooks, I went to our local Pc world and spoke to a Google expert who explained everything about them to me, I bought one of them instead of a Windows laptop and I am glad I did. Still trying to find my way around it but it's so fast and easy to use, I have already started to write the synopsis for my very first book.
Yes, hello. I have to admit I'm not published but aspiring and a few years ago I found Write Way software and it's amazing. Wondering if any similar software is available for Chromebooks.
Thanks for the info! I found it to be very helpful in my search to see if a chromebook would be suitable for writing a book. Please, if you don't mind, what chromebook do you use? I can forward my email address if you prefer to answer me privately. Thanks~ Khaja
Khaja, I bought the Acer Chromebook CB3-111 a few years ago. The battery is amazing, the laptop is very light and fast to boot, and it's always done its job nicely. It's perfect for Google Docs, especially when I had to take my girl to softball practice; I could sit in the van and write comfortably and easy for hours.

The only "bad" things I can say is that sometimes it crashes if you have a few videos open (or one of those "news" websites with a ton of adverts down the side). Typically, it plays YouTube videos without a problem, but struggles with sites that embed videos, just because those sites often have a lot of other things going on. Also, software is limited, or was when I first got it; I haven't checked what's available lately. It's not much good for my website work, nor with graphic editing, just because I can't use the software I'm used to.

But for a lightweight typing machine? It's great. You don't even have to save the document. Just shut the lid and go, re-open it later and keep typing (with or without internet).
Post a comment...
Blog posts by date...
December 2017
November 2017