Unearthed (Fractured Book 2) is ready for beta readers
Yesterday, Brian Clopper and I finished the second book in the 2-part Tale of Apparatum, featuring Kyle Jaxx from the city and Logan Orm from the enclaves.
It's not really a spoiler to say that the first book, Fractured, ended with an epilogue where the boys discover tunnels leading to a subterranean world. In the second book, Unearthed, Kyle and Logan explore that rich underground world in an effort to complete what the old man Abe Torren started – the reunification of the city, the enclaves, and those trapped below.
Book 2 is a little longer than Book 1, so it's a meaty project. Then again, we each wrote half, so it feels fairly light from my point of view. We've written and edited, and now we're reading on our Kindles for a fast, fresh look and to pick up any straggling typos. We should be done in a few days, and we intend sending the book out to beta readers around December 15th.
I already have a few betas lined up, but if you're interested, please drop me a line at keith@unearthlytales.com. I need your email address and full name. Oh, and it's important that you already finished Book 1. There's no point reading Book 2 otherwise!
A TWO-BOOK TALE OF SCIENCE FICTION AND FANTASY
Unearthed has a very familiar feel to it. We've kept the same Logan/Kyle alternating-chapter format. Once again they're traveling through dangerous territory, this time underground, to deal with a threat nobody else is equipped for. But while the feel of the thing is the same, the setting is vastly different, and you'll definitely see it as the second half of one story rather than a rehash. Unearthed has turned out pretty much exactly as we imagined it (and then some!) way back when we were still writing Fractured.
While this story was always meant as a two-book tale – and that's what it is, all nicely wrapped up and finished – there seem to be lots of opportunities for spin-off short stories to explore some of the other characters. We've talked about writing maybe ten short stories and compiling them into a third book called Apparatum as a sort of companion piece – completely optional but a nice expansion of the world we've created. The stories would feature Abe and other familiar faces from past and present.
WORKING IN GOOGLE DOCS
It's been fun working with Brian Clopper again. As before, we used Google Docs as our platform. We'd write our own chapters in Word, check them over, and post them into a shared Google document in the correct order. Then we would read each other's offerings and leave comments regarding typos, errors, ideas for improvement, continuity aspects, and so on.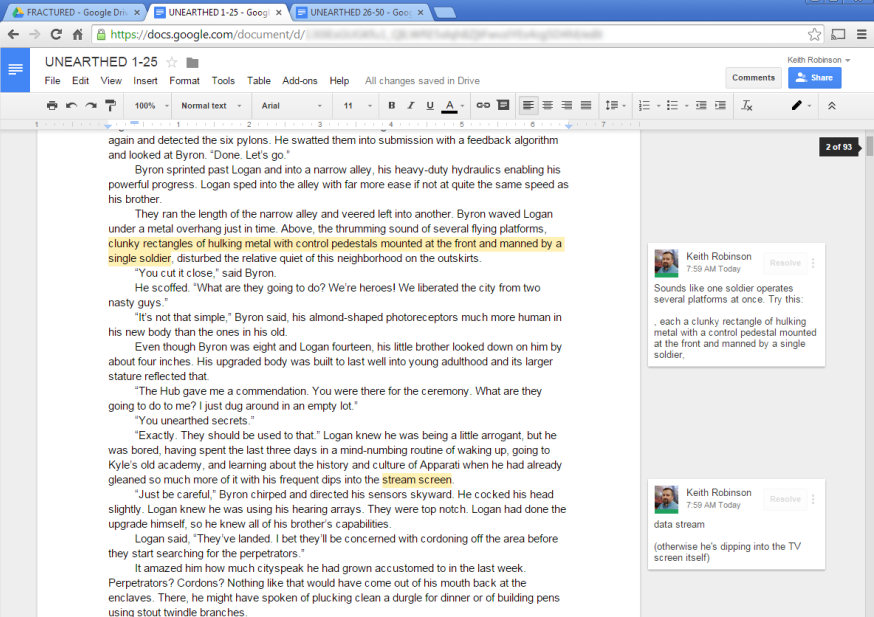 If you haven't yet tried this and want to, I would recommend using the Google Chrome browser. I keep that browser open ONLY for docs while using my default Firefox browser for everything else. The advantage of Chrome on your laptop is that you can work on the doc while offline, and when you come back online, all the changes are auto-synced so that the other person can see them. I've never had any problems with this yet. Meanwhile, I can also view, edit, and leave comments using my tablet and phone any time I please as long as I'm online (because the apps don't have offline editing ability). Changes are auto-synced as I work.
The other day, I proofread and commented as I walked around the shopping mall with my wife and kids. Hey, what else is a guy supposed to do while women are in a clothes store? The point is, it was a great use of my time!
All that aside, when it comes to actually writing, nothing beats working in a Word document offline. With 105,000 words split over two online Google documents, writing/editing speed can get a bit clunky.
I have literally just today finished the first book, [started it lastnight] and it was amazing! i cant wait to see the second book, particularly kyles part, I'm not sure why but the spirit controlling was almost more impressive than Logan's tech usage!
Thanks, Hunter! Book 2 should be released NEXT WEEK, so you don't have long to wait. :-)

If you haven't already, subscribe and receive notifications of my blog posts. It's the quickest way to find out when new books are published and available.
Post a comment...
Blog posts by date...
December 2017
November 2017