Sleep Writer series now available in paperback!
Just before Christmas, I worked on getting my three current Sleep Writer titles into print. Now they're available to buy on Amazon in various countries – or, if you're a USA resident, you can buy direct from the printer, CreateSpace.
If you buy from CreateSpace anytime in January, you'll get 15% off the retail price. Just click the CreateSpace links below and add the books to your cart:
Before checking out, enter the discount code SFQ5MWM2, which will adjust the total and take 15% off. Then press the Checkout button and create a quick and free account if you need to.
Or you can get the books at the usual price from Amazon. Be sure to check shipping costs and see what works out best for you!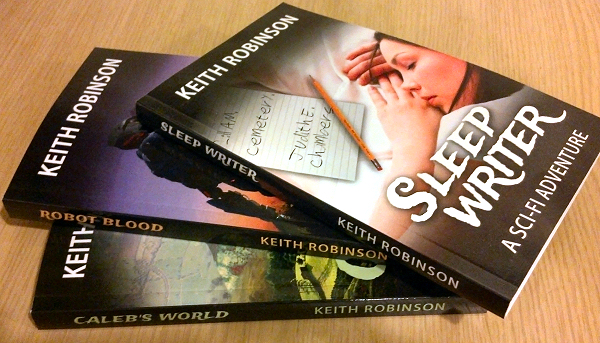 Either way, I'm chuffed with how they turned out. Because the books have a lower word count than the Island of Fog books, I was able to go with a slightly bigger font and a smaller physical size (5 x 8" rather than 6 x 9").
And just so you know, Book 4 in this series will be released around Summer 2016. It's called Warp Giants, and I'll talk about that more in another post.
Yay! Can I get a signed one of SW?
You sure can — I can send you one direct from my tiny cupboard, where I have a couple of copies. I'll email you.
I shall have to have a look for these. I hope they are as successful, as I'm sure your digital versions were. All the best for 2016. Im sure it will bring more success. You too Brian.
Can I catch Travis in India's book stall and when?
Thanks Graeme!

Rajit, I very much doubt you'll find these books in any brick-and-mortar store or book stall. You'll need to order them online. Sorry!
Post a comment...
Blog posts by date...
December 2017
November 2017