Sinister Roots (Island of Fog Legacies #2) is published!
Today is the day that Sinister Roots creeps its creepy way into the bookstores. Travis Franklin, son of famous shapeshifters Hal and Abigail, takes on more than he bargains for in the second installment of the Island of Fog Legacies. Store links below.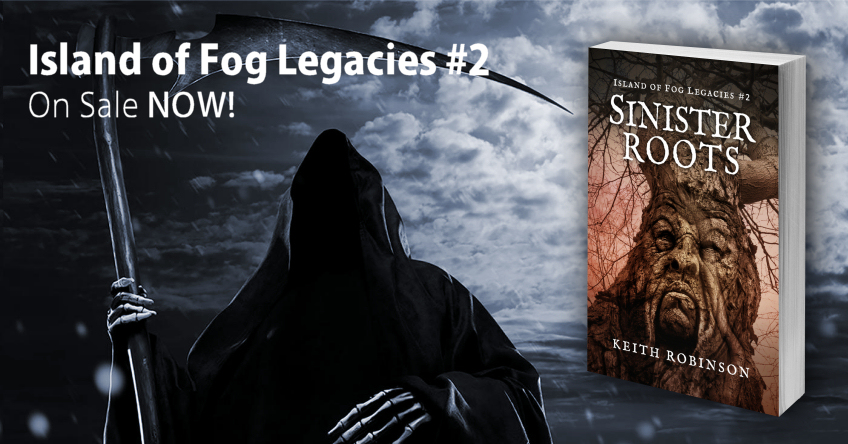 It's now available to buy at Amazon, Apple, Kobo, and Barnes & Noble as follows:
SINISTER ROOTS
(Island of Fog Legacies #2)

Shapeshifter Travis Franklin has a new mission: to deliver a mysterious package to the Grim Reaper.

Traveling with his best friend Rez, the boys set off on an overnight journey to a blank spot on the map where Death is thought to reside. This time Travis is going as a three-headed fireball-shooting chimera, and he's fairly sure nothing will stand in his way. Not even the annoying trolls who demand payment at every turn.

Yet something else lurks in the woods. Something far more sinister even than the Grim Reaper...

SINISTER ROOTS is the second installment in the Island of Fog Legacies series.

Available on Amazon US | Amazon UK | Barnes & Noble | Kobo Books | iBookstore. See also Goodreads.

Price: $3.99
It will also be available in paperback for $11.95 in a few days.
Remember that the first book in the series, Unicorn Hunters, is currently on sale for $0.99 only for a limited time, after which it will go back to its usual price of $3.99. So get it now while you can!
Enjoy Sinister Roots while I work on the next book in the series. More on that in another post.
There's something more sinister than the grim reaper in those woods?? Is it the roots?

Sorry, couldn't help it.
Haha! There's a strong possibility you're right. :-)
Post a comment...
Blog posts by date...
December 2017
November 2017