Searching for young-adult and middle-grade fantasy books on Kindle
I'm curious. My KDP Select promo for Island of Fog in August caused my sales to shoot up then level off, and I'm now in a much better place than I was a month ago. But it's hard to figure out exactly why.
Now that the promo is over, what exactly is causing my books to continue selling better than before? I had listed Island of Fog on various websites and Facebook pages at the time of the promo, but that kind of exposure is short-lived because new promotions come along daily and shove others down and off the page. Take Facebook, for example; a post about my book will be off the bottom of the page within hours. On Twitter it's a matter of minutes. So I'm pretty certain my continued sales today are unrelated to any such listings.
One possibility is that some of the 6025+ readers who downloaded the free book have gotten around to reading it and are now buying the others in the series. Only that doesn't add up because Book 1 is still outselling the others in the series. Nobody would buy a book they already had a free copy of, right? So these must all be brand new readers who weren't around when the promo was active and are more recently chancing across my series by searching or browsing on Amazon.
Somehow the promo boosted my status in Amazon's search and browse functions. But there's a big difference between SEARCH and BROWSE. If you browse the appropriate categories, you'll have a hard time finding my books. There are just way too many pages to flick through before you get to mine. For instance, I'm listed in this long-winded, very specific category:
But there are 11,130 books in this category, and each Amazon page shows only 12 books, meaning there are 927 pages to go through if you want to see all the books in the category (and since I'm not in the Top 100, I'm definitely not showing within the first 9 pages). I'm pretty sure people aren't finding my books simply by browsing.
So what about a basic search? If you searched Kindle Store for "fantasy," there are over 82,000 results. Gulp. Well, "young adult fantasy" yields 7,230 results. Okay, what about "middle grade fantasy" at only 384 results? That's still 32 pages to wade through, but let's see what I can find. Hold on a sec...
[ music plays softly ]
Okay, I'm back, and guest what? I didn't find my book at all. My book doesn't show up for the "middle grade fantasy" key phrase. Ah, but that actually makes sense. When an author sets up his books for Kindle, there's an option to specify up to seven keywords or key phrases. For Island of Fog I specified the following:
fantasy, dragon, manticore, faerie, centaur, naga, young adult
This isn't a great list. If you search on "manticore" in Kindle Store, there are a mere 17 results and I'm listed at #4, #5, #7 and #9 (four different books in my series). Much better! If you're looking for books about manticores, I'm your man.
But clearly "manticore" is not a very popular keyword. If it were, more authors would be using it as a keyword. What good is it if nobody searches on it? If I made up a mythical creature and called it "fizzygummiewidget," and used that as a keyword, I guarantee I'd be the ONLY listing if someone happened to search for it... but who would?
If you search on "faerie" in Kindle Store, there are 670 results and I'm listed at #47. This is better in that the keyword obviously generates more interest, but my book is not listed until the end of page 4.
A much more useful result is for "young adult dragon," of which there are 422 results and I'm listed at #7. There's quite a bit of competition here, but I'm faring well.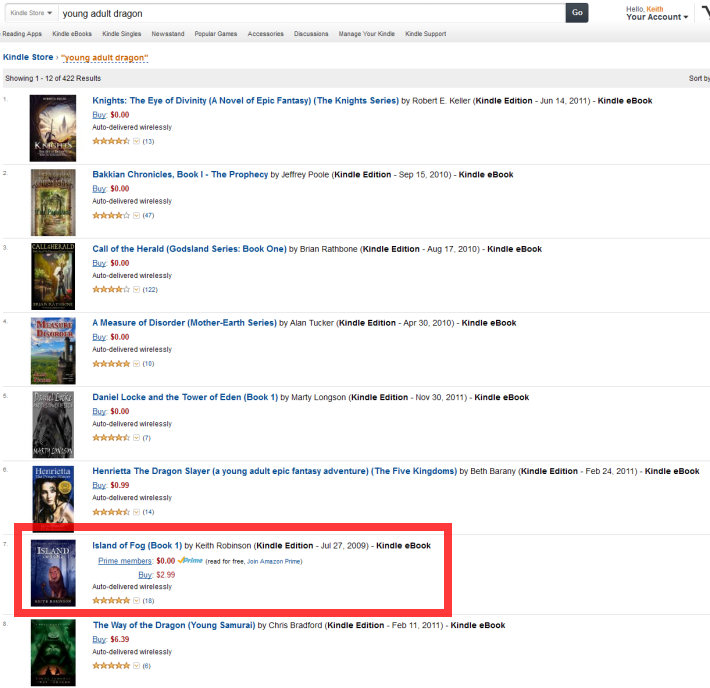 I've always known that the best keywords to target are actually key phrases – 2 or 3 words together like the aforementioned "young adult dragon." This is very specific and yields only 422 results, but although that number is relatively small compared to tens of thousands of results, I'm right up there at the top. Often it's better to snag the lion's share of a small market than a miniscule portion of a large market. If you're not listed on the first couple of pages of a search, you might as well not be listed at all.
So maybe this is where my buyers are coming from. The promo prompted direct sales at the time, and those sales added to my "sale history," and the improved sale history increased my relevancy as an author, and so on, but ultimately it's searches like this that help people find my books. I need to pay better attention to my keywords and phrases.
What about you? When you search for a fantasy book, what exactly do you type in to find books like Island of Fog in that specific genre and age group? Examples:
young adult fantasy
middle grade fantasy
dragon fantasy
...and so on. Please let me know. I firmly believe that authors (with their marketing caps on) can easily over-think this process. Understanding an average reader's mindset and habits when they search or browse for books on Kindle is vital to obtaining a better position in the ranks.
I need to find a balance between a key phrase that's popular enough to be searched a lot but not so popular that I'm competing against tens of thousands. I'll never be in the Top 10 for a widely popular single keyword like "dragon," and therefore I'll never be found at all, but I can be in the Top 10 for a lesser popular keyword like "manticore" – but what's the use if nobody ever searches on it? There needs to be a balance.
So let me know what YOU search for, or let me know of any other methods you use on Amazon. Do you browse through categories and narrow your search? Do you browse with tags? Or do you just use the search bar? Perhaps you search for books on Google and follow the links to Amazon?
Off now to work on better key phrases...
Tags I have used to find books I want to read are: zombies, apocalyptic, and quests. For some reason, while I read a lot of fantasy, I don't search for it as I use the 'people who bought this also bought' feature.

I searched the gargoyle tag list and Graham came in seventh place.
Brian, interesting post. As an indie author myself, I've just gone through these keyword choices myself. I gather Tags are very important, too. Personally, I've hardly ever used Amazon by searching this way, but obviously others do. Read your post on self-publishing, and will browse through the others. Thanks much.
Post a comment...
Blog posts by date...
December 2017
November 2017