Quincy's Curse out for beta reading
Quincy's Curse is nearing completion and will be published in October as planned. Right now it's in the hands of beta readers. It's already been read and critiqued by two, so this is actually a second and bigger round of beta reading. They have until October 7 (three weeks from today) to send me their feedback.
After that I'll do a final round of polishing and press the magic button that puts it into stores. This book will be available in print as well as on Kindle, Nook, Kobo, and Apple.
If you want to beta read Quincy's Curse, it's not too late. Just let me know by commenting below or emailing me. Remember that beta reading is not just a free read. I expect some degree of feedback and a (hopefully favorable) review afterward once published. In other words, I want to put you to work. ;-)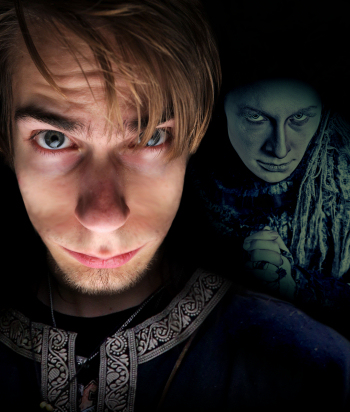 I've been tinkering with the cover and am nearly there. I'm not 100% certain about it yet so won't post it here, but I will give you a teaser image that shows Quincy looking a little concerned. Madame Volga is lurking in the background. She's a piece of work, that one.
I'll post the final cover together with an official synopsis in a later post. Stay tuned! But for those wondering if they want to beta read it, it's about Quincy Flack, a new boy in the village who's cursed with good and bad luck and as a result tends to steer clear of people. Megan Mugwood, being the sociable type, decides to be his friend and the two are immediately whisked off on an adventure with an old man named Pagfire the Mountain Maker. Together they discover the truth of Quincy's curse and realize that everything is about to get very dangerous indeed...
This novel is pure fantasy set in a medieval period. While I've tried to keep it authentic, I've taken some liberties here and there because I didn't want to get too bogged down in details. I originally used a few modern phrases that I subsequently fixed, but I deliberately left in "thick sandwich" even though "sandwich" is a little early for the middle ages (they piled meat and veg onto "trenchers," which soaked up the gravy and fats and could then be thrown to the dogs – or eaten by the less discerning type). In other words, it's 90% medieval and 10% artistic license. Besides, it has dragons and mermaids and a cyclops in it. What's the big deal with someone having a sandwich?
The tone of the story is pretty light to start out with, and there are chapters later on that are full of rib-tickling humor. But there's a dark side as well. It creeps into the story and becomes pretty tense toward the end. I really enjoyed writing the nasty villain, the fabled and somewhat disturbing Red-Legged Scissor-Man from the late 1800s. Of course, my version has nothing to do with sucking thumbs.
Anyway, more later!
I would love to beta read for you.
Thanks Cathie! I'll email you tonight.
This sound great. I would love to beta read it. Thanks!
If you need another beta reader I'd love to read it. Just let me know what kind of feed back you are looking for :)
Thanks, Ande and Mavis. I've emailed you both.
Post a comment...
Blog posts by date...
December 2017
November 2017