Proof book has arrived
Exciting times! Yesterday, UPS delivered a proof copy of Island of Fog. I've been flicking through it with a big grin on my face, marveling at how real it is. CreateSpace's digital printers have done a great job and it's come out almost exactly as I expected and hoped. I say "almost" because there are one or two minor things I want to alter – for instance the cover's color tint is supposed to be blue, but it's come out a little purple. It's not bad by any means, just not what I expected, and I think blue would be better. (I took a picture of it and posted it below, and it looks blue again, so clearly my screen is a little "off" color).
Also, although I purposefully chose "cream" (or off-white) pages as opposed to white, now I'm thinking they're a little too off-white. My name is also huge on the spine, so I want to reduce it a bit. My ego isn't THAT big.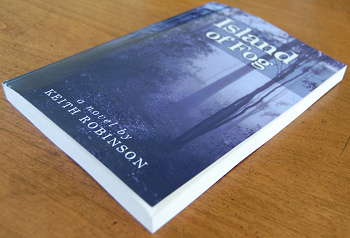 But these are all cosmetic changes. The real question is: How does it read? As far as printing goes, it seems to be exactly as I intended, no problems at all. My margins are just right, the font size is fairly small (necessary to avoid higher printer costs), and everything is clear and nicely packaged. Like I said, CreateSpace has done a great job. It looks and feels like a real book and not some home-made jobbie! The bar code on the back makes it look "professional" too.
As for the story itself... well, Nessa, my better and much smarter half, has put down her Stephen King book to give mine a read-through, and I've asked her to have a pen handy so she can mark any typos she might come across. This will be the first time I've let her near it, despite the fact that I've been pottering about with the manuscript since 2002.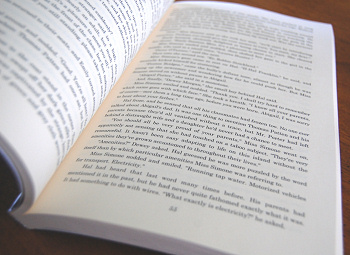 After she's done, I might read it through once more myself; just a scan read though, since I've read it a blue-million times already. I keep flicking through it and haven't yet come across any typos, but I did find a line in the first chapter that made me frown!
Overall I'm very pleased, but I'll be ordering a second proof anyway, to correct a few cosmetic things and no doubt a few typos that Nessa will find. After that I'll make it available to buy. I should think the "launch" date will be around April 10th, if not earlier. The PDF version will be available earlier than the printed book. In the meantime, those who want to pre-order will be able to do so shortly. Watch this space!
Oooh how exciting! Sounds great. I'm gonna get a copy as soon as it is out! :-D
Me too! It sounds amazing! Wow, Keith, a published book with your name on? I imagine you must be so proud.
Well, in PDF [ Pretty Dense Fog ] format, I expect perfect blues, lovely cream pages, adjustable font sizes & the mighty Secret Blog discount.
It looks really cool! You should be very proud. Congrats again!
Well done, Keith; I am excited as well! Can't wait to be able to buy a copy, of course I would like it signed!!!
Well done, Keith. You must feel really proud.
Can't wait for the launch. Well done and all the best, Keith!
You're all very kind! I just hope it lives up to expectations... *Gulp*

My wife is reading it at the moment and, since I've asked her to make a note of any errors or oddities, she picked up the fact that the children in the story (who are all twelve) refer to their tutor/teacher as "Miss" — in other words, "Miss, can I go to the toilet?" or "Oh, Miss, that's not fair!" (not actual quotes, but you get the idea).

Now, when I was at school, that was what we called the female teachers, whether they were Miss or Mrs or Ms, whereas male teachers were called Sir. We also called the teachers by their names, Mrs Horner or Mr Hall and so on. But the abbreviated version was either "Miss" or "Sir."

This was in England. But here in the US, Nessa went through school (along with other kids) calling her female teachers "Ma'am" on the basis that "Miss" was/is inappropriate for married women. This simple fact stopped me dead in my tracks. It's not exactly a plot-buster, but it's one of those small details that might cause young American readers to think, "Eh?" — and maybe even British readers these days! Am I that out of touch with political correctness??

Whether you're British or American or Indian or Australian or whatever, I'd be very interested to know what YOU called your teachers at school. (And I don't mean the rude names under your breath.)
I called my teachers "Miss" and "Sir". I'd never heard of this change! I only called the headmistress "Ma'am"; no one else.

My personal opinion is that you should go ahead with "Miss". Good Luck.
[First name] Miss, and [First name] Sir. Strange huh? Yet when we write a formal application, we say Miss [Full name] and Mr [Full name]!
In Australia the kids called out Miss [ no name ] or Sir [ no name ]. Ma'ams were only heard on American TV- no one used the term. The full word Madam was more likely to be associated with a Brothel manager, which meant it didn't get much use, if my memory is correct.
I think it's the same as Ming says in India — where I live anyway. [First name] Miss and [first name] Sir. And as for principal (or headmistress), Madam or Ma'am.
Mr [Surname] and Miss/Mrs/Ms [Surname]. (Educated 1991-2004 Scotland)
However, in modern British programmes such as 'Grange Hill' the pupils commonly said 'Miss' or 'Sir' when directly talking to a teacher, just like in your examples.
I think there are two issues — "British vs American" and "Past vs Present".
For example, in watching modern American shows school kids seem to do as I would and call their teachers Mr Smith and so on. Of course this may vary state to state and school to school.
Same as Philip and Ming. Miss or maybe ma'am and sir.
How did you design the wonderful looking cover Keith? You must be multi-talented. Writing the book, even designing the cover. Wow from where did you all learn these things Keith. I'm sure we'd all like tips how to write a childrens novel and how to design a great cover. *winking*
Late post: Keith's well on the way to emulating Blyton if that's tree shadow showing through Photoshop fog — tut tut — you can't get a shadow in real fog !
Interesting how most of us are "Miss" and "Sir" types! I think what's missing, though, is a report from a kid presently attending an American school — and even then it might possibly differ from east to west and south to north. (The north-east is more "English" than other parts of the country.)

Wilkins, I don't know about multi-talented, but that cover was actually pretty easy — just a good high resolution photo with some text added. The darker-colored semi-transparent mask behind the text is just a separate layer, a dark blue solid rectangle with the alpha channel (transparency) set around 40% (where 0% is completely transparent and 100% is completely solid). The trick is to use layers for everything, in case anything needs changing or adjusting later. The photo is the background layer, then there's an overall blue-ish tint on layer two, then the semi-transparent mask behind the text is layer three, and the text itself is layer four.

I'd much prefer a nice painted cover though, but either I re-learn how to paint, or I pay someone to do it (probably the latter). But maybe that's for the future!

Rogoz, that's an untouched photo on the cover, with real fog — all I did was add a blue-ish tint to the whole thing. If you see shadows, then they're real! And anyway, you CAN get shadows in fog; I've seen them myself. So there! :-)
Keith, in books written by American authors, I've found that kids address their teachers by their name. For example, if you were the teacher, they would call you Mr. Robinson. :-) Maybe that helps.
Post a comment...
Blog posts by date...
December 2017
November 2017