Preparing for the storm
There's a huge snow storm descending on Georgia (along with the rest of the United States) this evening and everybody is going crazy preparing for it, in case we all get snowed in with no electricity or water, cut off from civilization for weeks on end. My wife keeps mentioning the great storm of '93 in which she was stuck at college all weekend with no power. Well, being English, I suppose I'm woefully under-prepared for what might be coming. We've had snow this Christmas and I know the roads were bad, and I know that we lose power once in a while because all the power lines are exposed to the elements... but I still find it hard to imagine being without power for more than 12 hours (which is how long it was out a few months ago). Worse, imagine being without the internet for a day or two! *Shudder*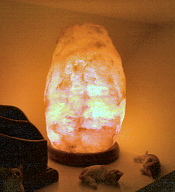 Anyway, if the power goes out, the pop-in-law has a spare generator next door that will keep our heating going (it's propane heat, and the electricity is just to run the fans and thermostat). But what we really need are geo-rocks from the Labyrinth of Fire. I happened to pick one up when I visited the labyrinth last October for research, and it now sits on the bookshelf at home, glowing happily.
Meanwhile, I've made a start on Island of Fog Book 4. More on that in my next post. Sales for the published trilogy have picked up again thanks to the electronic Kindle and Nook versions. I don't know why, but suddenly I'm selling quite a few of those. It might be because both Amazon's Kindle and Barnes & Noble's Nook have free downloadable apps for computers and mobile phones, so more and more people are buying books at cheaper prices than the printed versions. I wouldn't buy electronic versions myself, but plenty of people are constantly on the move, commuting and so on, and I can imagine it's pretty handy having a library of books contained on a mobile phone!
I had a nice comment from Chuck, a local reader of my books, who said:
Sorry this has taken so long but I finally got around to reading Mountain of Whispers and... dude... you out did yourself! It was a fantastic read! I loved having the 2 storylines in 1 book. From the adventure on the Mountain of Whispers to the attack of the soldiers, the action never stopped. The lightness of the budding romance between Hal & Abigail balanced nicely with the seriousness of everything else. Great job!! I hope the adventures of Hal and his friends are far from over. Would also love to see these stories on the big screen!

Here's to more awesome writing in 2011!!
Thanks, Chuck! And in December, out of the blue, Island of Fog received a mention on Piers Anthony's website newsletter (first paragraph here):
About reading: I am a slow reader, so a novel that another person might read in a day will take me three days full time, and longer if I read it in stages. Usually the latter; I do have other things to do, such as making meals and writing my own fiction. If it is by an aspiring writer, chances are it won't be great, but an honest comment will cost me a fan. Since I refuse to do dishonest comments, it can be an expensive business for me in more than one sense. Any ignoramus can dash off an uninformed opinion, but an informed opinion requires thought. That's why I'm cautious about committing to read books. Yet I remember the problem I had getting any competent feedback on my own early work. Had I had it, I might not have taken eight years to make my first sale. So I do read and comment some amateur novels. Even so, they threaten to monopolize my time. At the turn of July/August I had entirely caught up with my science, news and opinion magazines. Now four months later I have a 20+ magazine backlog. I am so busy reading for other people that I'm not reading what I want to for myself. I shall have to become less accommodating, which will annoy some folk. Yes, sometimes I discover novels that are real fun, as was the case with Island of Fog, but usually the reads are somewhat plodding. So this is a sort of vague announcement of whatever. I just seem not to be able to keep up with everything.
It's great to be picked out as a shining example of a book that's not rubbish. :-) Seriously, I wonder what it was that made him think of mine when he wrote this? Very happy to be mentioned in this way, in any case.
Right. Onward with writing... at least until the storm knocks out the power...
Post a comment...
Blog posts by date...
December 2017
November 2017