On TV again... or was I?
Recently I went along to a local TV studio for a quick interview on a show called The Bookshelf. This is the second time I've been on. The show is hosted by various local libraries, and this time it was Rossville's turn.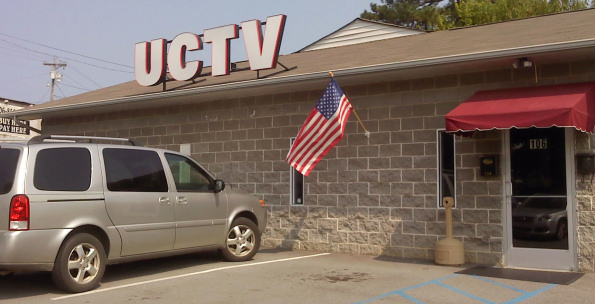 The studio is basically a long room with lots of "sections" for different shows. The cameras are remote-operated and there's a man sitting in a control room with lots of monitors. Otherwise it's pretty much empty. There are no make-up artists, no cameramen, no boom operators, no directors, not even a gaffer. No clapboard either, although this was a live show so there's no requirement for multiple takes. Instead, all was quiet.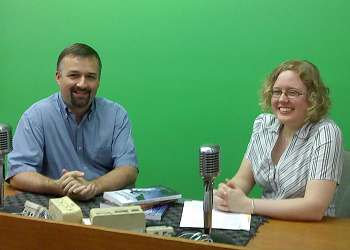 It's a half-hour show. Before it started, I sat with Brandy Wyatt and chatted while the little monitor screen showed commercials. When the clock showed 11.29 AM, the operator called "stand by," and we fell silent. At 11:30 AM, the show titles came up on screen: "The Bookshelf." We could hear no music or anything like that, and there was no-one to say, "You're live in 3... 2... 1..." It was just a small monitor with the show titles on, no sound at all. When we saw ourselves pop up on the screen, we knew we were live.
Okay, so it's not like there were millions watching. This is a local cable channel that I don't even have at home (because I have satellite). Still, it's a little weird knowing that people are watching. Maybe they're puttering about doing housework with the TV on in the background, or maybe they're sitting there with popcorn avidly watching the screen. I can't figure out if speaking on TV like this is harder or easier than an audience of, say, 20 sitting in front of me. With TV, I don't have to face steely expressions or puzzled looks. Then again, I find it a little easier to talk to people than a camera!
It's not a bad experience by any means, though. Just interesting, maybe even fun. But I had a moment of panic when the phone on the desk rang. It was a live caller (as opposed to a zombie?) within minutes of the show beginning. Luckily the question was directed at Brandy.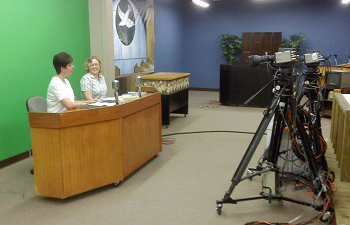 This time around, I was in control of what I wanted to say and actually remembered to make sure viewers knew where to buy my books. When I was done, I stepped aside for Carmella Clark to take over, so that both presenters could run through their list of things to talk about in the library world – new books coming in, upcoming events, and so on.
On a "big" show, the director would cut to a commercial or something while the interviewee got up and walked off and the other presenter came in and sat down, but this is a small, local show and there are no such frills – the getting up and swapping places is all part of the fun. It gives it a nice "local" feeling!
It occurred to me as I sitting there that it was a good job I wasn't wearing green. I'd forgotten that the backdrop is green (replaced by a picture of bookshelves on the live broadcast) and if I had worn a green shirt, then I would have become partially invisible. My book cover has touches of green in it, but probably not enough to be noticeable. Still, if it had been an entirely green cover, then it would have looked pretty funny holding up an invisible book.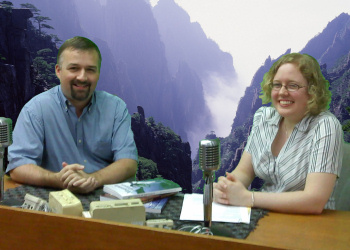 It also occurred to me that I should have insisted we use a backdrop of mountains, as on my book cover. That would have been cool!
Before I left that morning to go to the TV studio, I popped in to see my mother-in-law next door, and told her that I was about to be on TV. She has cable, so she put the TV on the right channel and prepared the popcorn.
So off I went to do my thang. When I got back, I found out that the channel had had a "transmission problem" and I'd been on the screen for about two seconds, all grainy and blurry, with no sound. That's probably my magnetic personality at work, but it was disappointing (at least for my mother-in-law). Still, I knew some people had watched the show, because we'd had a caller early on. I have to wonder, though – just how many people saw it that day?
Wow, Keith. Brave thing to do in the first place going on TV. I noticed the green screen behind you on one pic. As you say, good job you didn't wear green! Impressive if it had gone out for longer than just a few seconds. Maybe they wouldn't have had a transmission problem if more people had been in the studio?
I don't think the problem was the studio's, Julie, or at least not directly. I know that some people saw the whole show without a problem. Maybe MOST people saw it okay, and the problem was restricted to my street! Not sure.
Post a comment...
Blog posts by date...
December 2017
November 2017