Millions of books sold at Barnes & Noble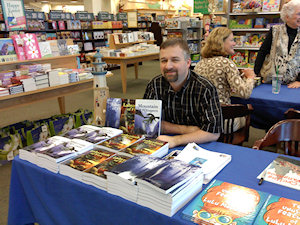 Well, okay, maybe not millions...
The book signing at Barnes & Noble went about as well as can be expected. I was with three other authors and I think we sold about the same amount each. It was a very busy Saturday afternoon and I enjoyed talking to customers whether they ended up buying a book or not.
It's a funny business. You go along to book signings hoping to sell your entire stock in a whirlwind thirty minutes, but expecting to sell only a few in three hours. I've been to author events in the past where we've sold none whatsoever, because the bookstore owners hadn't bothered to announce or advertise the event in any way... but usually it's somewhere between five and ten sales in a 3-5 hour period. Yesterday's Barnes & Noble signing was very busy, with a great atmosphere, and yet I only sold six or seven. But that's normal. The most I've ever sold at a book signing is twelve, and that was stretched over a longer period.
Is it worth it? Well, yes. Six or seven book sales is better than none, which is what it would have been if I had stayed home and played on the Wii. Plus, it's not just six or seven sales; Island of Fog is the first book in a series, and customers rarely buy all the books in a series without having read the first. I'm the same; I'll buy the first one, and if I like it, I go back and get the others. So I always try to keep in mind that a sale of Island of Fog might mean the subsequent sale of Labyrinth of Fire, Mountain of Whispers, Lake of Spirits, and so on.
So, all in all, Saturday was a productive day in the end. Oh, and for all those who want to see the printed handout featuring the prologue of Lake of Spirits, here it is in PDF format:
Glad to hear you are happy with the signing event. As you say, each sale of the first book has the potential to be further sales of the subsequent books. Talking of which, have taken a look at the manuscript and I am looking forward to the fourth book. Oh, and I LOVE that cover.
Thanks Dave! :-)
Keith, I am very much impressed with your publishing exploits. Probably, I may also, one day, be at a book signing ceremony at our local Flagstaff, Barnes & Noble since I have now signed up with Lightning Source as well as the e-book conversion (or rather an e-book version existing side-by-side with the printed version) for my book, The Famous Five: A Personal Anecdotage.
Well done on selling the books! Incidentally, the reason I'm seeing this now and not on the 17th is because my Google Reader update didn't arrive till 2 hours ago, is this a glitch?
Good luck, Stephen!

And thanks, Ming. Hmm, it's funny you should ask about a glitch because although the post arrived in Thunderbird just fine on the 17th, a second copy arrived yesterday as well (although both are dated the 17th). I can't figure that out, but it sounds like you got that "second copy" — ie, something triggered it to post again. But even that doesn't make sense because the atom/rss feed doesn't really post at all, it's just an online text file containing all the recent posts, and feed readers go check that text file at timed intervals. The post in question shows correctly like all the others. So I don't understand the issue, but I'll bear it in mind!

Edit: I figured it out, Ming. I had changed the filename temporarily (prefixing it with "copy-of-"), and that caused it to be treated as a new feed post, so it sent twice. Today I changed the filename back again, and that caused it to be treated as yet another post! Now I'm aware of this nuance I'll try to avoid it in future. Basically, I must not change the filename after it's been added to the feed!
Post a comment...
Blog posts by date...
December 2017
November 2017