Island of Fog is published!
Well, self-published anyway. Today I uploaded the manuscript and my cover design to CreateSpace.com and submitted it for publication. I'm just awaiting an email to say everything is present and correct, and then I'll be able to order a proof copy. As soon as that arrives, I'll drool on it and check it over, and assuming all is well, I'll press the button that says "Publish" so that it's available to the world. Then I just need to sit back and wait for the thousands of excellent reviews, the critical acclaim, and the offers by big publishing houses to print and market my book for me, and so on. :-p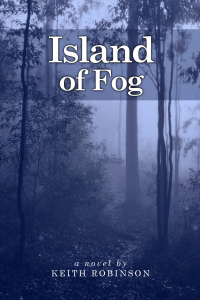 Yes, well, we can dream, right? In the meantime I'll just be happy to see the thing in some printed form. The next step will be gathering reviews (with hopefully a few good ones) so I can have a bit more ammunition with which to sell it to literary agents, while enjoying the look and feel of an actual finished book on my shelf. I don't have delusions about selling thousands of copies, and I know the vast majority (95%?) of self-published authors sell less than 500, and I don't expect I'll be any different. But I've spent so long on the thing that I feel it's time for a little reward, and that reward is seeing it in print, with cream-colored pages and everything.
Once this itch is scratched, I can concentrate on actually selling the manuscript to an agent. It might take a few months, it might take a year, or even longer. But, in the meantime, hopefully I can get the book "out there" a bit.
The only reservation I have about self-publishing is that an agent might not want to work with a book that's already "out there." But I feel this is a small risk, and I've heard of a number of big sellers that started out by self-publishing. I think the potential rewards are worth the risk – for instance the possibility of getting unexpected glowing praise from a professional reviewer!
Of course, there's an equal chance that it will receive very bad reviews and it will bomb. But as always, I would consider negative comments as a challenge to make it better. Any writer who expects nothing but praise is a fool and liable to get his feelings hurt. So I say, "bring it on" and help me figure out what's wrong.
All being well, Island of Fog will be available in the next week or so. It's 218 pages and will be available in paperback for $11.95. Stay tuned for links and more information!
Many congratulations, Keith. You must be incredibly proud. I wish you all the luck in the world with your novel, and can't wait to see it in my local Waterstone's!
Keith, I'll have to order a copy as soon as I can — it seems brilliant!
Hey congratulations man! I know the feeling of being PUBLISHED.

Enjoy it!!
Good job, Keith! Post links as soon as possible, I'll order a copy. :-D
Congratulations Keith! I really like the cover too. It's very... mysterious! Good luck with everything.
Thanks, y'all! Nigel, I'd love to see the book in Waterstone's, but don't hold your breath. It's going to be online ordering only for the foreseeable future.

I just now ordered the proof copy, and while I'm looking forward to receiving it, I'm also annoyed that the estimated date of arrival is not until April 9th!! What? *Sigh* Anyway, I need to get the proof, check it over thoroughly, and only then approve it for public sale. And that's assuming there's nothing to correct; if there is I'll have to correct it and ordered another proof for approval!

Still, this is a little quicker than waiting for a "big house" publisher to pick it up. :-)
Well done, Keith. The cover is very atmospheric. You must feel very proud to see your name in print. Can't wait to read it.
Many congratulations to you.
Julie
Congratulations, Keith. How wonderful it'll be to have a book on your shelf (and hopefully on lots of other people's shelves too!) with your name on the cover!
Congratulations Keith, and don't fret over negative reviews. As Blyton found out, it's only the target audience that matters — the rest of us just waffle on. And, in another area of artistic uncertainty, I'd like to point out the experience of the great Tchaikovsky, who quickly ' saved ' his Swan Lake ballet as a stand-alone orchestra piece because he thought the ballet wouldn't last much beyond one season. Needless to say, both versions are still very popular.
Can't wait to read Island of Fog, Keith. I simply love the cover — how *much* better it is, compared to the new Famous Five cover which was shown in the EBS forums. And, judging by the novel's description, I think that this one does have relevance to the story, with a great foggy sky. Hope it all goes well and by the time my exams are finished (incidentally they finish on April 9, the date on which you said the proof copy will be in your hands), the novel is available to buy — maybe one or two weeks later. From where will you choose to sell it — Amazon or CreateSpace's own website? (I imagine the site has a bookstore.) All the best with promoting and those sorts of things!
Thanks again! As it turns out, I think that the April 9th "estimated delivery" date was wrong. The same evening that I ordered the proof, I got an email saying it had "shipped" and that I should expect it within five days. So March 25th at the latest, with any luck.

Once approved, it will be available in printed form at both Amazon and CreateSpace, although apparently it takes a few weeks before it becomes live on Amazon. It will also be available as a downloadable PDF for those who don't want to pay shipping and/or prefer to read "on screen." I will probably also do a Kindle version. I will of course provide all links shortly, together with a free first chapter preview and that sort of thing.

Also, thanks to Diarmuid, Julie and Philip for your comments about the cover! It was pretty simple to put together and I already have several other book covers "started" — this is planned as a trilogy and I just need to pick from a short list of possible titles for the next two books. I'm sure you can probably imagine the sort of form the titles will take! Just think of Blyton's Adventure series and work from there. ;-)
A trilogy? Ooh, even more wonderful if this first novel's description is anything to go by! What will you name the trilogy, Keith? And as you said titles are worked from the Adventure Series, could the next be The Valley of Fog? ; -)

I also like the fact that it will be available in PDF. I, like any other person, hugely prefer printed books, and it will be a unique experience for me if this book gets to my house: reading a real self-published book. I would really love it, IF the novel manages to be delivered properly. India's postal services are very bad — and the cost of shipping and converting it to Indian currency make up an even huger amount! I'll see... this time it might even reach the house.

Looking forward to reading it!
Let's see... Island of Fog, Castle of Fog, Valley of Fog. Hah, got it! :P I'd LOVE to get a printed copy, but knowing the postal services around here will probably have to settle for an electronic copy. *sigh* Well I'll get it soon enough! Congrats again, Keith. :D
Are there any illustrations in it Keith? It would be lovely if there were some!!

From an Enid Blyton FAN.
GREAT NEWS, Keith. You must be so proud of yourself. Your own novel with your name in the front page, wow!. Congratulations. The cover looks really good too. It makes you want to read the book.
Island of Fog, Castle of Fog, Valley of Fog... Heh. Nice try, and you're on the right track! But "Fog" only appears in the first title, and "Island" only matches the first Adventure book by coincidence; the second and third are not necessarily "Castle" and "Valley" at all. I haven't quite pinned down the other titles yet, but am almost there. In the meantime, feel free to suggest or try to guess them. For example, "Valley of Rain" or "Mountain of Snow"... I won't be using these actual examples, but you get the idea. :-)

No illustrations, EB Fan, sorry. I've always fancied trying those myself, but not in this edition. I'm in awe of Tony DiTerlizzi's illustrations and would love to see that kind of thing in my own book(s). If I could only draw that well...

Ming and Philip, I don't know HOW you manage to put up with India's postal service! I know you HAVE to of course, but still... Yeesh. Makes me very thankful for the US (and the UK) postal service.
Keith, I almost hate to say it, but it's just one of those things that you can't do anything about. I think it's the combination of foreign orders and bad postal services: this combination makes for... well. In fact, I have ordered many times from an Indian online bookstore and never gone wrong, the books have always arrived thankfully. I haven't yet dared to buy from Amazon or other international online bookstores: it's because I know that the international orders won't reach, and I even have an example — EBS Journal 37 (Tony sent it for free but sadly it never arrived.) Ah well!

At least I can read the novel, Keith; one-fourth of a very large fruit, but if the whole fruit is juicy, so must be the one-fourth!! :-D
I might be the only 'non-professional' person who has read more than just a bit of this novel, and by more than a bit I mean 18 out of 23 chapters. I assume Keith put the novel on a page accidentally, and therefore, when I informed him of that in October, deleted the link. I really liked what I was reading and I am eagerly looking forward to finishing my read — I've really been patient, Keith, when you consider that it's almost five months now since you removed the page!

Best wishes,
Tom
I think you're right, Tom! Only a literary editor has read the entire thing, and you've read maybe 18 chapters or thereabouts; beyond that, nobody has read anything except some very early drafts of the first eight chapters a number of years ago when I was workshopping it. I still can't believe Google managed to index my chapters, but all that stuff has gone now, including the cached version.

There are probably a number of minor changes to those first 18 chapters, Tom, maybe even some major ones, but still you have the general gist of the thing already. I hope you like the rest! :-)
Well done, Keith. Hope it gets picked up by an agent so that we get to see it in the bookshops here in Australia.
Congratulations from Spain, Keith!
Here you are your first spanish translator!
Best wishes!

Oscar
Congratulations. Terrific atmospheric cover.
Congrats are in order.

Was CreateSpace.com better than www.lulu.com ?

Just curious.

Best wishes
Post a comment...
Blog posts by date...
December 2017
November 2017