Get an advance copy of Roads of Madness
Since I'm now writing the last chapter of Roads of Madness, I'm thinking ahead to the launch date on August 31st. I'm looking for volunteers willing to read the book in advance and review it on GoodReads or private blogs before the launch date, and also – perhaps most importantly – copy that review to Amazon as soon as the book becomes available. Interested?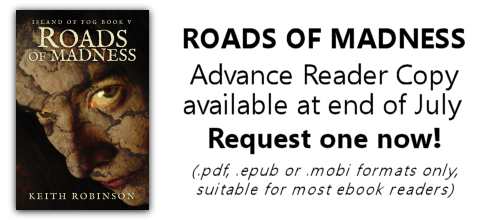 An ARC (Advance Reader Copy) will probably contain a few typos here and there, and maybe even a few bits that end up being rewritten before launch. But 99% of the story will be good to go, so if you can read the book in four weeks and look past a few errors, this is a good way of catching up with Hal and his friends a month before everyone else – and for free.
If you'd like an ARC copy in either .pdf, .epub, or .mobi format (no print editions at this stage), just comment below and leave your email address so I can send you a copy when it's ready. (Or email me privately at keith@unearthlytales.com.)
Please remember – I'm looking for those who are genuinely willing and able to spread the word with reviews on GoodReads, blogs, websites, and so on, and then copy the same review to Amazon right after the book shows up as "on sale" on August 31st.
Those who help me out the most and bring new readers to the Island of Fog series will receive a FREE printed edition of Roads of Madness when it becomes available later in August.
ARC copies should be available around the end of July. Request a copy now! :-)
I would love to read the book early and write reviews. PDF would be the format I would need.
Would love to read this for you Keith. Bet it's superb as usual!!!
Helen
I would love an ARC copy, but I couldn't guarantee to have it read in four weeks with the way my job is going right now. Barely have time to read at all lately, but I certainly look forward to purchasing a copy when it's available!
Thanks, Canaan and Helen! I've added you both to my ARC list and will get the book out to you around the end of July.

And Joseph, let me know later in July or in August if you think your reading schedule will allow you time after all. I can easily send you an ARC copy then if you want one. :-)
Post a comment...
Blog posts by date...
December 2017
November 2017