Get a free cartoon of your child or other small person as a superhero monster!
This is a fun idea. To celebrate the release of Chaos at the Door, the first book in Brian Clopper's Monsters in Boxers series, the author is running a contest.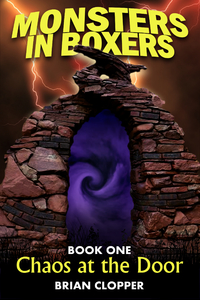 Monsters in Boxers #1: Chaos at the Door

Time and space about to crash in on itself thanks to paradoxes galore? Check. An invasion of Earth by ghastly monsters? Most definitely. A super-baddie named Horde Lord? Absolutely. Four unsuspecting kids suddenly able to become super-powered monsters courtesy of high-tech boxers? You know it. Bullies, betrayals, and bombast? Of course we have the three B's. The Monsters in Boxers series is a rowdy mash-up of monsters, time travel, and magical undergarments that's filled with action and wit.
As a gifted cartoonist as well as a writer of outrageous science fiction, Brian will pick one person to win an original monster sketch and portrait. That's right, he will draw your child, grandchild, niece, nephew or other suitable little person as a member of the Monsters in Boxers team of superheroes.
Since this will be a portrait, Brian will need a charming photo of your loved one. He'll then draw the little bugger as a boxer-wearing monster and create a paragraph description of the special powers the monster will have. (If the monster is a girl, the boxers will probably turn into a fetching skirt or perhaps a skort.)
The sketch will be posted at www.brianclopper.com, and the winner will get the original art as well as some comic goodies from Brian's studio.
So what does one have to do to get their little person immortalized as a monster wearing magical underwear? Simple! Just subscribe to Brian's website at www.brianclopper.com anytime before March 25th and you're automatically entered.
I have a few of Brian's out-of-print books including the original illustrated edition of Graham the Gargoyle. He's a professional comic strip artist, dontcha know! These days he's a writer, but his cartoons are still going strong. Just to give you an idea, here's a black-and-white sketch Brian did of the four main characters in the new Monsters in Boxers novel: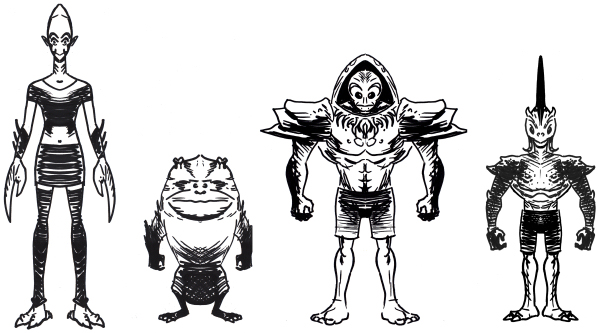 From left to right, that's Amy, Reggie, Troy, and Jason.
Why not add your own small person to the gang? Sign up now. It's free and simple! Offer expires at midnight on March 25.
Post a comment...
Blog posts by date...
December 2017
November 2017