Free short story The Silver Wand (Part 3 of 4) now available
It's time for Part 3 of "The Silver Wand," where Hal, Robbie, Abigail, and Lauren now find themselves in another odd place. Will they ever make it home? This time they meet the old man Abe from the novel Fractured about a week before that sci-fi and fantasy adventure begins.
The two "tales of Apparatum" novels, Fractured and Unearthed, are co-written by myself and Brian Clopper. They're a 50/50 mix of science fiction and fantasy, the epic struggle of two remarkably similar boys from entirely different corners of the world who find themselves using their extraordinary talents to overthrow their oppressive leaders and bring peace to the land. As it says on the cover: Two worlds. One Destiny.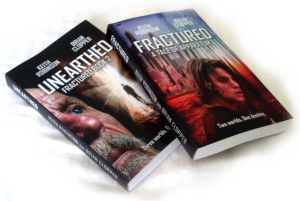 These two books are available as usual in electronic form on Kindle, Apple, Kobo, and Nook – AND, brand spanking new this month, they're also now available in print! Just follow the links to Amazon.
Go read "The Silver Wand" now on my Island of Fog Free Short Stories page and find out more about the world of Apparatum.
Post a comment...
Blog posts by date...
December 2017
November 2017