Free online epub/mobi creator tool
This post is for indie authors who need a free, easy-to-use online tool to create an epub file for use with most ebook readers and apps.
As a website developer and programmer by trade, I created an online tool that produces clean epub files that validate well. I've used this tool for all my books so far, and there are other indie authors who have used it successfully.
I'm offering my home-made epub tool FREE to any indie authors who want to give it a whirl. There are no obligations; I ask only that if you have suggestions for improvement (ie, if anything is unclear or doesn't work the way you expect) then you let me know politely and remember that it's in beta mode.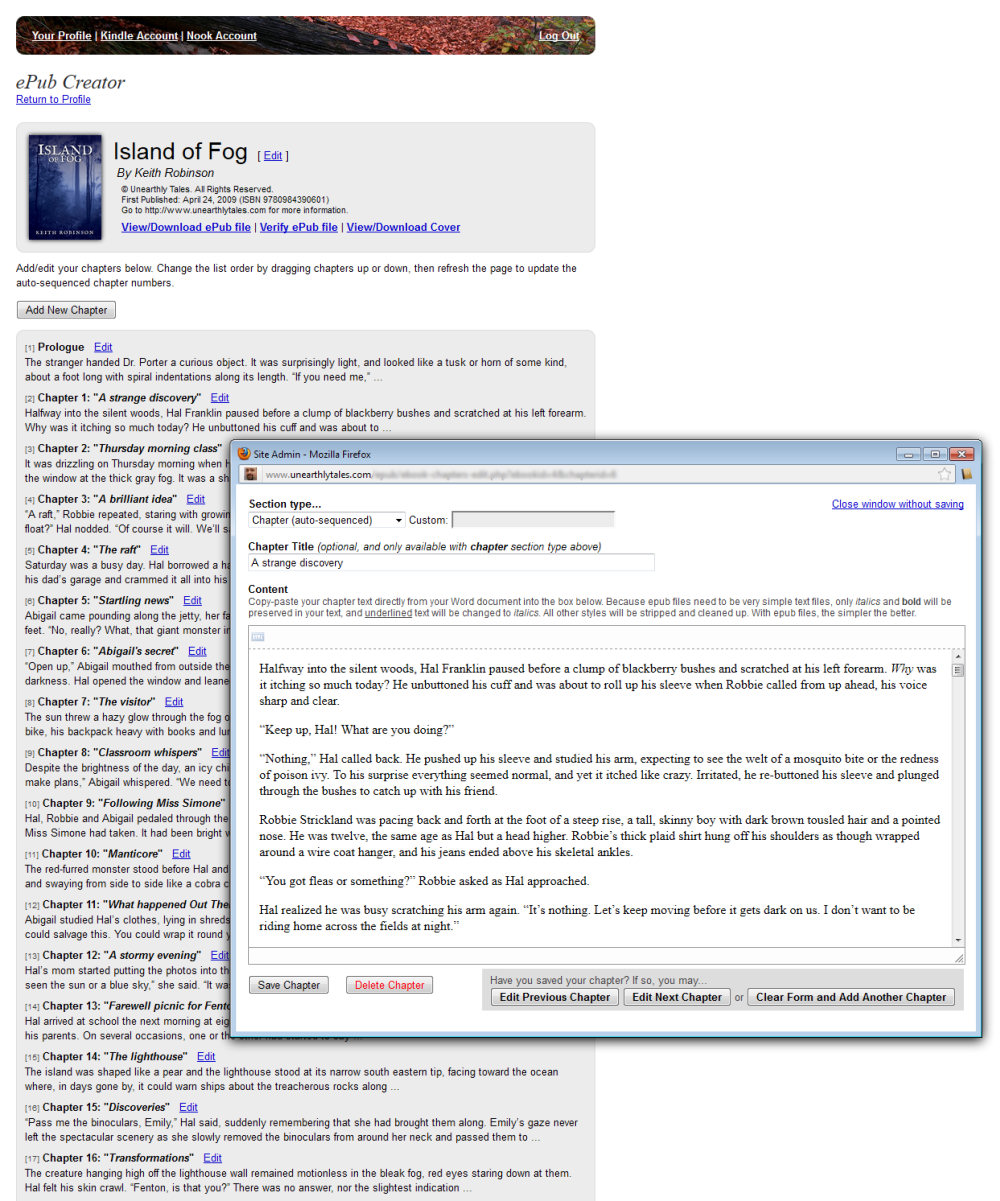 Click for larger view
This tool is not for everyone. There are pros and cons depending on the way you like to work and whether there's anything "awkward" about your book. For most standard novels, this tool will work for you. But it's no good if you have a non-fiction book with special headings, tables, bullet points, pictures, and so on.
For the most part, this tool will suit those who can't abide "meat grinders" like SmashWords, which takes your Word document and auto-converts it AFTER you've gone through a million formatting rules.
This tool is for those of you who prefer things to be simple and clean. The result is an ebook that looks like any of my Kindle and Nook books, for example Island of Fog (check the Look Inside! feature).
The setup process involves uploading your book on a chapter-by-chapter basis – you copy-paste your chapters one by one into a text box and (optionally) add a chapter title. Yes, this can be boring for those who have short and plentiful chapters! But it's quicker and easier than many other tools, and once your chapters and a few other details are entered, it's a simple matter of pressing the "generate epub" button. The text box accepts rich text during input, but all formatting and/or HTML is stripped out except for italics and bold (and it's really only italics that should be in a novel anyway). Ebooks should be simple, and as I said above, this tool works for most "standard" novels.
The epub validates perfectly as long as you don't have anything weird in your text (eg, accented characters). If these are essential, then a not-quite-validated epub will probably still be accepted by Kindle and Nook.
The generated epub file works for Nook and many other ebook readers. You can also upload the same epub file to your KDP Kindle account, and Kindle will convert it to mobi without a problem. If you're not ready to upload it to Kindle yet, but want a Kindle (mobi) file, then you can either run the epub file through Kindle's downloadable previewer tool, or import it into Calibre and convert it that way.
If you'd like to try it out – again, for free, no obligation – then email me at keith@unearthlytales.com and introduce yourself. I'm lowering myself gently into "public" waters with this tool. I'm not looking for payment or donations or anything like that. If there's anything I want from all this, it's simple networking and any exposure for my books that comes with it.
Your converter tool was a lifesaver for me! Except for it not liking the dangling dew-hickey on the 'c' in 'facade', everything converted perfectly. I DLed the sample of my novel onto my daughter's Kindle after using your tool, and it looked AWESOME! Thanks so much for creating this, and for allowing others to use it! :)

MTLBYAKY

Jana~
Thanks for the heads-up. I altered the way it handles dangling dew-hickeys and other weird accents, and now it works fine.
Hello and thanks for sharing this free tool, I didn't know about it. As for me, I tried using this free converter http://kitpdf.com with a simple and easy to use interface. No need for installation, just upload files to see the results. It's a good alternative to Calibre.
Post a comment...
Blog posts by date...
December 2017
November 2017