Four FREE Kindle books for Christmas
As the title suggests, on this page you'll find FOUR fantasy/sci-fi Kindle books that will be available for free on December 11-12.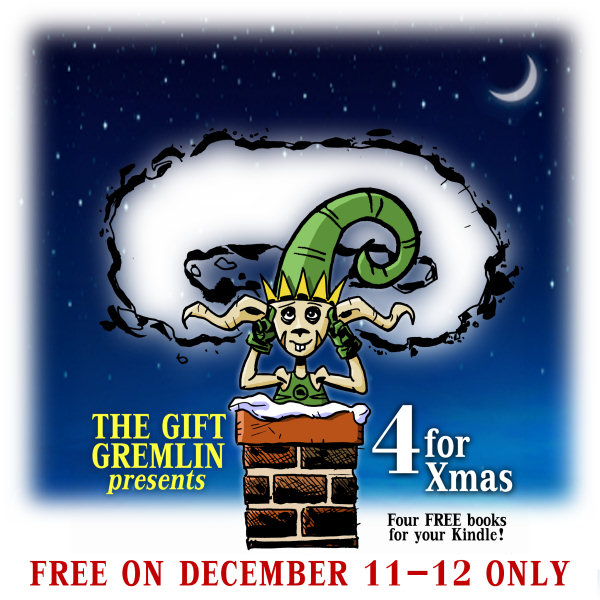 I hardly need to introduce Island of Fog to regular readers of this blog, but I will anyway just in case a welcome stranger chances across this page...
---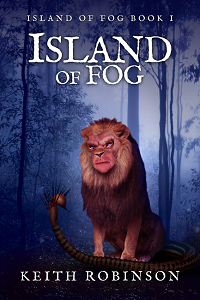 Island of Fog by Keith Robinson
Middle-grade fantasy
FREE ON KINDLE DECEMBER 11 AND 12
A lonely, foggy island is home to eight families. Twelve-year-old Hal and his friends have always wondered what happened all those years ago on the mainland, that unseen place Out There beyond the fog, and after an astonishing discovery in the woods the children are more determined than ever to find out what their parents are hiding. But their lives are turned upside down when Abigail reveals her closely guarded secret. According to her, the children are slowly changing into monsters! Are they freaks of nature, or subjects of a sinister experiment?
Each child reacts differently to his or her unique monstrous transformation; after all, one may feel proud to be a dragon, faerie, or centaur, but who in their right mind wants to be a sadistic manticore or cowardly harpy?
ISLAND OF FOG is a story of intrigue and conspiracy. The reader follows Hal Franklin as he struggles to accept that he and his friends are something more than ordinary children, and that their parents have been covering up the truth the whole time. With their trust shaken and the unexpected arrival of a strange woman from Out There, the children hide their frightening shapeshifting abilities and pretend nothing is wrong.
"I love it! The story is interesting throughout, and builds nicely to a reasonable explanation for all mysteries. Congratulations on a fine juvenile novel." —Piers Anthony's July 2009 Newsletter

"This is a well written sci-fi novel. There is that 'it could happen' quality that you find in Dean Koontz novels. The suspense works and doesn't frustrate the reader. It makes you want to read the next installment!" —Writer's Digest
Download ISLAND OF FOG for Free!
---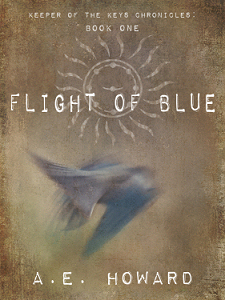 Flight of Blue by A. E. Howard
Middle-grade fantasy
FREE ON KINDLE DECEMBER 11 AND 12
A cursed traffic light. A rip in the fabric of the world. A possum sorcerer injured on a quest for revenge.
Kai and Ellie embark on a journey to return the sorcerer to his home. Entangled in events that could destroy the world, Kai must choose whether to accept the role he was born to play, but isn't sure he wants.
"Great adult reading in the tradition of Madeleine L'Engle and her A Wrinkle in Time series and Austin Family Chronicles." —Elizabeth Munzert

"Flight of Blue transcends my usual reading experience..." —Julie Jordan Scott

"There was something so magical about it..." —V. Cano
Download FLIGHT OF BLUE for Free!
---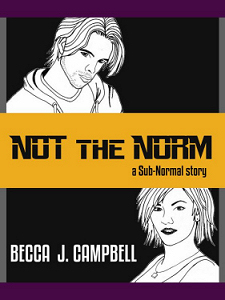 Not the Norm by Becca Campbell
Science fiction/Speculative fiction
FREE ON KINDLE DECEMBER 11 AND 12
Eden has a dangerous secret.
In a world where GenEns (enhanced humans) are the norm, her own ability is flawed. If anyone found out about the glitch in her genetic code, she'd be deemed a sub-norm, as one unfit to exist in the human race. Her certain fate would be extermination.
She always thought keeping her defect secret was her biggest struggle. That concern vanishes when her life is put in danger. Suddenly, fighting back is her only option, and she's completely unprepared.
Her only chance for survival is by wielding her damaged power. But fear and painful memories threaten to hold her back. What will happen to her if she unleashes the terror within?
A Sub-Normal short story. Approximately 6500 words.
"I loved this story. Campbell has succeeded again in populating her world with characters that I care about. I have read a lot of really bad writing recently, so it was with great pleasure that I read this story and was swept up in Eden's story." —Jason Sharp

"Becca J. Campbell has a knack for human connection and a driving interest in the individual flaws that do so much to define characters. As an author, she loves exploring these utterly mundane aspects of the human condition in fantastically imaginative environments." —Aaron Pogue"
Download NOT THE NORM for Free!
---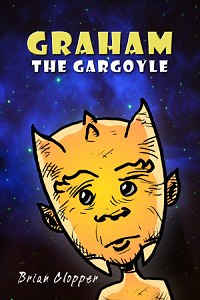 Graham the Gargoyle by Brian Clopper
Middle-grade fantasy
FREE ON KINDLE DECEMBER 11 AND 12
For Graham, his first flight is sure to be a disaster. Expectations are high for him to fly. Teased for his puny wings and fear of heights, his only friends are an equally picked-upon troll named Ot and his grandfather who has hardened so much he may not make it to Graham's rite of passage.
When his grandfather must leave Cascade to ascend to his final resting place atop a church tower, Graham makes a heart-wrenching decision and sneaks through a dimensional portal with him, keenly aware he may have just trapped himself alone on Earth. Will he make it back in time to attempt his first flight? Will Blord, the village bully, prove to be be too much of a thorn for the earnest young gargoyle? And what does his sister's volcano project have to do with saving his rocky hide?
Revel in the answers as you read this heartwarming tale of friendship and faith.
"Author Brian Clopper does a great job in weaving a story that, with its relaxed style and genuine affection for the characters, will definitely appeal to middle-grade and younger readers." —Roger Eschbacher

"Brian Clopper is a natural-born genius storyteller – creative, witty, and always able to share the unexpected surprise with his readers! ... Perfect bedtime story for the kids." —MichelleV"
Download GRAHAM THE GARGOYLE for Free!
---
So get 'em for free while you can, folks! And if you like one or more of these books, please consider posting reviews on Amazon. Reviews don't have to be very long, and ratings are REALLY helpful to authors.
The Island of Fog series is AMAZING!!

I could not stop reading! I read all five books in a week and a half. I would've finished sooner but I had to spend some time with my family!

I seriously can not wait until the next book is released this spring.

Maybe Hal and the gang will find themselves another adventure and there will have to be a book 7 or 8!!
Thanks for stopping by, Sarah - glad you've enjoyed the series so far. And don't worry, there will at least be some short stories in the future, plus a prequel novel. :-)
Hi : your site is great. I stopped by because I was wondering what an Indie publisher was. I have childrens' stories that I want to put on Kindle. But I would really like to know why you are giving away four of your creations free. Very generous of you. I am looking for instruction for using Kindle.
Betty
Betty, an Indie author/publisher is just someone who does all their stuff. As for giving books away for free — the four listed here aren't all mine (only one is), and the reason for doing free promos is simply because it gets your work out there. It's true that you don't earn anything directly from free giveaways, but you gain a new following, and those readers might recommend you to others and review your books, which helps with future sales. Plus, giving away the first book in a series is a great way to entice readers to buy the others in the same series.
Post a comment...
Blog posts by date...
December 2017
November 2017