Flight of Blue
Although you'd be forgiven for assuming this is the title of a book in my own series, Flight of Blue is the new fantasy novel for young readers by A. E. Howard, another great writer I've come to know recently.
A cursed traffic light. A rip in the fabric of the world. A possum sorcerer injured on a quest for revenge.

Kai and Ellie embark on a journey to return the sorcerer to his home. Entangled in events that could destroy the world, Kai must choose whether to accept the role he was born to play, but isn't sure he wants.
Anna is launching her novel on July 24, and I invited her to post here about it. Luckily, Anna has a 4-part series of blog posts that is being split between different bloggers, and I got Part 4 – and so, without further ado, let's hand over to author A. E. Howard...
---
Part 1: The Idea: A Cursed Light and a Possum Sorcerer hosted by Heidi Daniels
Part 2: The Characters: Talking animals, silent animals, and humans too, Oh My! hosted by Ruth Long
Part 3: The Three Realms hosted by Julie Jordan Scott
Part 4: Magic and Prophecy
I think it was Brandon Sanderson who once said that when creating a system of magic, it was as important to figure out what it couldn't do, as to figure out what it could do. As I worked through the various types of magic in Flight of Blue, I found myself very grateful for that advice playing in the back of my mind. As we travel through the world of The Keeper of the Keys Chronicles, we meet several different kinds of sorcerers, and while powerful, they all have their own sets of limitations.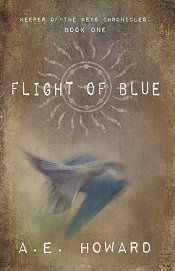 Limitations are actually what allow the story to function, because if the magic wasn't limited, then someone good or evil would be all-powerful, and there would be either no story, or there would be deadlock. If just one sorcerer were all-powerful, then they would instantly win and either everything could then be ice-cream, lolly-pops and fluffy bunnies (okay, so maybe not that sugary), or everything would be all darkness, bleakness and black oily grime (I'd take the lollies over that any day, wouldn't you?).
Or, if both one good sorcerer and one evil sorcerer were all-powerful, you'd just have an eternal stalemate. Not only is that a boring story, there's no room for the involvement of mortals, and so they'd basically be bystanders. Boring.
So limitations on the magic allow there to actually be a story where cool and awesome things are possible, but there's still danger and adventure and struggle. All the things that make something worth reading.
The Prophecy of the Lucinarium ends up being a big deal, even though it's just mentioned in Flight of Blue. (Shhh! I'm giving out advanced information from book 2! But this will just be our secret, okay?). As I started writing the sequel to Flight of Blue, I realized (yes, I'm sort of pantsing again), that not only is the prophecy the key to discovering Kai's identity, there's a whole second part of it that is yet to be discovered and that drives the rest of the story to completion. Of course, Kai still has to figure out what happened to his parents and rescue them before he can truly hunt down the meaning of the prophecy and follow where it leads. But that's why there's two more books to record the story.
---
Anna will be dropping by here over the next few days to answer any questions you might have.
And use the widget below to enter for a free copy of Flight of Blue and other goodies.
a Rafflecopter giveaway
The excitement keeps building!
Awesome! ;-)
Post a comment...
Blog posts by date...
December 2017
November 2017