First delivery of books
Yesterday was a very exciting day for me, because the UPS van turned up with my first delivery of 50 Island of Fog books. I was out at the time; Nessa and I had a few errands to run, and we were also shopping for bits and pieces for our "booth" at this weekend's Down Home Days street festival. But Nessa's mom phoned to tell me they'd arrived, and I was pleased as Punch. I wasn't expecting them quite so early, and had planned to set up my booth with a load of leaflets containing a long excerpt from the fourth chapter – not ideal, but better than nothing. But now the books have arrived, so I can actually take those along with me (although the leaflets will come in handy too).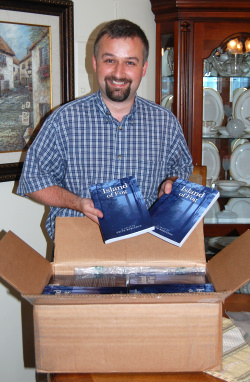 I have to admit that the arrival of the first box of books is what I've always dreamed about. Well, sort of. My dreamy-dream has always been to have that box arrive courtesy of some big traditional publishing house like Scholastic, and not a self-publishing print shop. Still, it's a good feeling to see myself "in print" and in such quantity! And I have to say, so far I've been very impressed with CreateSpace.com. The quality of the three proofs and these first 50 "real" books is extremely good, and the speedy service has surprised me. They claim that orders of up to 100 books will arrive within 15 business days, but I ordered these on Friday 24th April and they arrived on Wednesday 30th April. Now that's fast!
By coincidence, I'd also ordered some TuffGard jiffy mailers (the ones CreateSpace use to deliver my proofs), and these turned up on the same day as the books, delivered by the same UPS van. So not only do I have the books, but I have jiffy mailers to send them out in! Also, since I approved the proof last week, Amazon has been slowly updating my listing, and this now seems to be finalized: Buy from Amazon.com
My booth on Saturday is starting to take shape, at least theoretically. I have a 10 ft square tent/canopy and a 5 ft table. Nessa bought some fine white "netting" that she's going to lay out in some way to make it look like fog, on top of which I'll stand a 2 ft tall wooden lighthouse that I found by chance in a shop. (A lighthouse features quite prominently in the story.) Nessa also had the bright idea of renting a cotton candy (or candy floss) machine; we plan to give away small helpings of "fog" throughout the day. Oh, and this morning I should, hopefully, be able to pick up my two banners, which are 6 x 4 ft (to hang on the side of the tent) and 5 x 1 ft (to hang on the front of the table).
I'll post pictures of the booth after the event. In the meantime, all those who wanted to order a copy of the book can now do so, either directly from me, or from Amazon, or from CreateSpace – just go here for information.
Congratulations Keith! You look like a dog with two tails! I'm buying a copy immediately!
Congratulations, Keith. You look over the moon, as Ming says, 'a dog with two tails' I'm sure, they're both wagging joyously.:)

Looking forward to reading my copy very much. Keep it safe and don't sell it!

Very best wishes. Julie
I'm very happy for you, Keith. I'll buy the signed copy as soon as I can now.... :-)

Hope the launch goes well, so good luck!
Good luck with the booth, Keith. If I were there I would be the first person to buy the book. Wishing you all success.
Post a comment...
Blog posts by date...
December 2017
November 2017