Dragon*Con in Atlanta, Georgia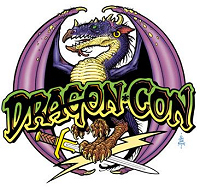 Over the weekend I took a break from writing about dragons and other monsters and went to Atlanta, where I bumped into... er... well, dragons and other monsters. This was my first visit to Dragon*Con, and my wife and I had a blast! We'll definitely be going again next year.
We booked fairly late, but managed to get a really nice room (well, suite) in a hotel just a few underground train stops away from the city center. Dragon*Con is located every year in four different hotels in the Peachtree Center area – the Marriott, Hyatt, Hilton and Sheraton hotels, to be specific. There were thousands of people there over the four-day weekend, many of whom were dressed up in some alien garb or another. The parade on Saturday morning was packed, with dozens of characters from Doctor Who, Star Trek, Star Wars, Batman and other Marvel comics/movies, Teenage Mutant Ninja Turtles, True Blood, Battlestar Galactica, plus even Shrek and Mario Brothers! Some of the costumes were amazing, and some not so good, but it was all very interesting!
There was plenty to do, with a whole program of events that you have to plan in advance (if only to get from one hotel to another on time), and way too much to fit in. You have to pick and choose what you really want to attend. It's easy sitting in on the various panels of authors and editors, but where TV stars are present, you have to line up. For ages. For instance, we visited the ballroom to see five stars from the recent Battlestar Galactica series, and for that we had to line up for about an hour or so, but once they let everyone in and we got seated, we had a reasonable view of the stage and the actors: Mark Sheppard (Romo); Richard Hatch (Tom Zareck, and Apollo from the original 1970s series); Rekha Sharma (Tory); Aaron Douglas ("Chief"); and Edward James Olmos (Commander/Admiral Adama).
The next day was far quieter and we were able to just wander in to a second Battlestar Galactica event and see Richard, Aaron and Edward again, along with Dean Stockwell (of Quantum Leap fame, and one of the cylons). And to cap it off, I actually exchanged a few words with Admiral Adama in the restroom as we washed hands. (I draw the line at talking to strangers while peeing, but saying hello to someone who happens to be washing his hands at the next sink along is okay in my book.)
We also went to a True Blood panel and saw Nelsan Ellis (Lafayette); Kristin Bauer (Vampire Pam); and Sam Trammell (Sam Merlotte). Vampire Pam wandered past me in the corridor afterward, and into the restroom where my wife, by coincidence, happened to be washing her hands. But a gaggle of hens quickly gathered around the actress, clucking madly and rudely, and Nessa rightly chose not to be one of those annoying types.
We saw a couple of the team from Ghost Hunters (Steve Gonsalves and Amy Bruni), as well as actors Luke Perry and Kevin Sorbo, a couple from Doctor Who, and then plenty of others that we didn't see but who were somewhere about.
And then there were famous authors like Jonathan Maberry and Scott Sigler, to name just a couple. I kept thinking, "One day, maybe I can be one of these guest authors..."
Anyway, all good fun. Next year I'll be sure to get a table of some kind and sell my books, perhaps along with some Island of Fog t-shirts!
Sounds like it was a lot of fun! If you have any pictures do post them, I want to see you in a dragon costume! I'm assuming you dressed up.
Ah, well, no, not this year. It was our first visit and we wanted to check it all out quietly, ie, be spectators rather than be spectated. But next year, maybe... probably... :-)
Post a comment...
Blog posts by date...
December 2017
November 2017