Dragon book series
What would YOU do if you found out you were a dragon shapeshifter? This series of fantasy books for all ages deals with that issue... and a whole lot more.
Hal Franklin is a twelve-year-old boy with a worrying and embarrassing secret: he has a green, itchy rash on his arm, and it's starting to turn scaly! It comes and goes, but it's definitely getting worse.
When Abigail, an annoying girl from his class, turns up at his house one night, he reluctantly goes out to the garage to see what she wants... and she tells him something startling, something that he refuses to believe. She says they're all turning into monsters.
This news is difficult to swallow, but he can't deny that something weird and frightening is happening...
As he stood there, candle held high, he noticed with a shock that the back of his left hand was covered with the same dark green rash as his forearm. His mouth dropped open. Candle wavering, he pulled back his sleeve. The rash, or whatever it was, had spread fast and now encompassed his entire lower arm. It had crept up past his elbow and was almost to his shoulder. It didn't hurt, but it itched.
His heart hammering, Hal knew he'd have to tell his mom about it in the morning – if he dared wait that long. He'd surely have to go see Dr. Porter, for this was no ordinary rash. It felt tough and smooth, and scaly in the center where it had started.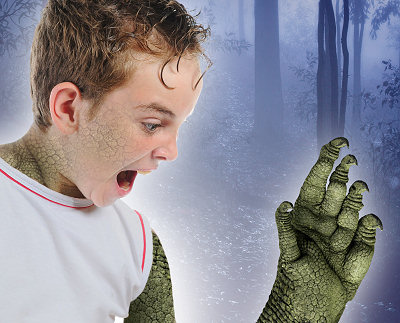 The knowledge that he might be turning into some kind of lizard-boy is hard enough. But what's beyond the fog that's covered the island all their lives? Are Hal and his classmates really all that's left of the world? Have their parents been telling the truth about that, or is there something else going on?
Could it be that the children on the island are subjects of a sinister experiment?
Island of Fog is the first book in a fantasy series for readers of all ages nine and up. It features unwilling shapeshifters and all manner of creatures from myth and legend including (but not limited to) a faerie, an ogre, a dragon, and a manticore as shown on the book cover.
If you like creepy mystery and adventure, imagine an island smothered in fog where classmates are, one by one, transforming into monsters...
Buy Island of Fog for your Kindle at Amazon.com or Amazon.co.uk. Print editions are also available.
Post a comment...
Blog posts by date...
December 2017
November 2017