Down Home Days
So there I was on Friday night, loading up the van in torrential rain and thinking, "Well, better that it rains NOW than tomorrow morning!" Saturday morning was, of course, the planned annual Down Home Days in downtown Chickamauga, Georgia, which last year was attended by 12,000 people milling about the streets. Chickamauga is a very small town, basically a few roads with gift stores, so this street festival thing is a pretty big deal – various small boutiques and booths, plenty of hot dog vendors, fire truck tug-o'-wars, the procession of colorful wagons, and bands playing throughout the day and into the night. And I had a tent of my own, from which I could promote my new book, Island of Fog.
Trouble is, the weathermen had predicted rain on Saturday. It came early, that Friday night, and I was hopeful those big thunderclouds would just dump their load and be done with it. Well, they dumped their load all right, and I had to back the van right up to the front door to load it up.
Saturday morning was dry! Hurrah! Around 8.20am, Nessa and I went into town and set up our tent and table. We were done by 9am, and ready for action...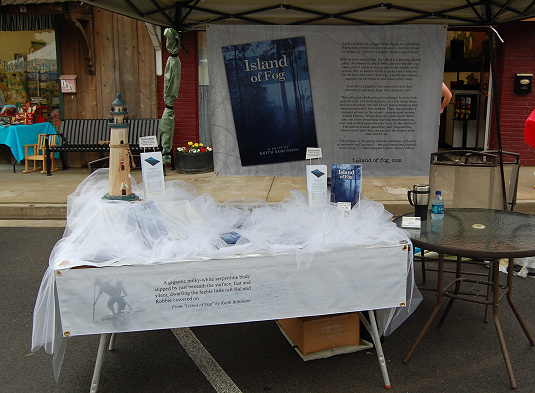 I like how Nessa created the "fog" with some white netting over a silvery tablecloth. Laying the books underneath was very clever and fits right into the book's gloomy setting! Throughout the day the banners drew lots of curious looks, and it was almost funny how many people slowed and stopped as they read the blurb. In my last post I mentioned a cotton candy (candy floss) machine, which we were going to rent so we could give out free "fog on a stick," but we found out that the nearby food vendors probably would have kicked up a stink about it, so in the end we decided not to bother.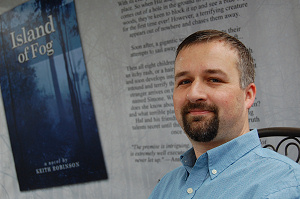 Anyway, after we got set up, we sat back and watched others feverishly getting ready, then Nessa went off and got us some breakfast. As we sat there eating, thinking "this is gonna be all right," the rain started. Just before 10am it started hammering down; the thunder boomed and the lightning flashed, and we had to cover everything up to protect against driving rain. In seconds we were soaked, despite the tent. The tent, being a cheap one, wasn't angled steep enough to allow water to run off; instead it collected on all four sides and the fabric was in serious danger of collapsing under the weight, so I had to keep poking at it to tip the water off. The rain went on and on, for two hours. A couple of vendors gave up, put all their stuff away, and drove off. According to weather.com (via Nessa's Blackberry) it was supposed to be an 80% chance of rain all day... and then 100% chance of rain in the morning only... and then 60% chance of thunderstorms all afternoon... and then 100% chance of scattered showers throughout the day... and the temperature ranged from 60-75 F. Basically the weather reports were worthless. All we knew was that it was raining RIGHT NOW!
Just after 12pm it finally stopped. So far not a single member of the public had showed up – they, of course, had far more sense. But around 1pm people started arriving, and the grey sky started brightening a little. It never turned blue, and there were more slight drizzles throughout the day, but the storms were over. By mid-afternoon it was busy, and continued to get busier as the day went on.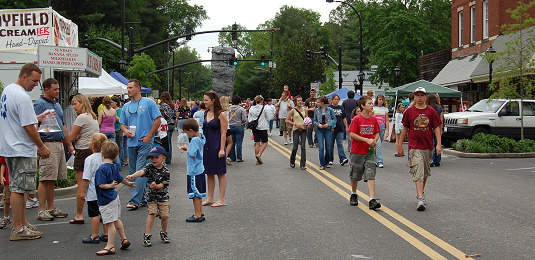 During this time I got talking to an author across the road, K. D. Pitner (or Kathy), who was selling her own book. At some point we exchanged books, and throughout the day we each sold about the same amount (she sold seven, I sold six). I'm not really sure what I expected to sell, but I'm okay with six. More would have been nice, and there were certainly quite a few "interested" people who said they'd be back later just before they left. Unfortunately that never happened. Or maybe it did, but I left at around 6pm and for all I know some of these people were there all night.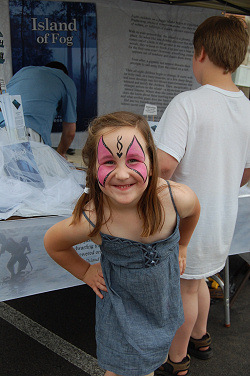 But by early evening the crowd had "changed" – the shoppers had gone, and now it was time to watch the bands play on the huge stage that had been erected. I figured nobody was going to be buying books now!
An interesting experience, and definitely not the wash-out it tried to be in the morning. But in future I'll probably stick to book fares. I was very pleased with my banners though – they turned out great, and the 6 x 4 hanging behind me did a great job keeping my box of books dry.
As usual for this sort of event, Lily had to have her face painted. And, also as usual, there were many, many kids walking about with baggies full of water... and a goldfish. Nessa succumbed to Lily's pestering and bought her one too, so I spent many hours baby-sitting a goldfish before we packed up and left. That goldfish, which Lily imaginatively named Nemo, is now in her room, settling into a new 10 gallon tank. Heck, we planned to get her a goldfish or two at some point anyway...
Sounds like a really wonderful day! Six books sold already — that's an achievement, methinks. :o) I think the rain DID give a bit of a gloomy atmosphere, so perhaps it was just as well? Hope your books didn't get wet in the rain though! I love how your stall looks — wish I was there! And I hope Lily's Nemo-fish behaved itself?
Actually 10 books sold to date. :-) Well, okay, it's nice, but I have to wonder what happened to all those who posted here saying they were going to buy a copy! (Present company excused, since you've got a good excuse.)

I'm currently negotiating (well, arranging) with the Books Neverending bookstore in Fort Oglethorpe to promote the book. That'll be cool!
10 books already? And just 5 days after the launch? Wow!!! The booth looks great, especially the table. It really looks like a foggy island. Lily looks cute. I'd love to have my face painted but I've never had the opportunity.:-(
Post a comment...
Blog posts by date...
December 2017
November 2017