Books Never-Ending
Hmm. Mountain of Whispers has been available since the beginning of August – so about two months now – and yet somehow I neglected to supply a few copies to my favorite book store, Books Never-Ending in Rossville. I realized this on Saturday when I popped in and the store owner, Danielle, raised an eyebrow at me and asked where my third book was. She had people waiting, she said.
I was mortified. How could I have forgotten? I went from thinking "I really must take some books to Books Never-Ending," to "Did I ever take some books to Books Never-Ending? ...yes, it's been a month or so, I must have by now," and finally to "I wonder how many they've sold?"
Well, I corrected the situation yesterday. Danielle ordered copies of Mountain of Whispers, along with more copies of Island of Fog, which she had run out of. I took the books in and was pleasantly surprised to find that a space had been cleared for them – and I mean a BIG space. With the new books arranged neatly, the display is the first you see as you walk in the door...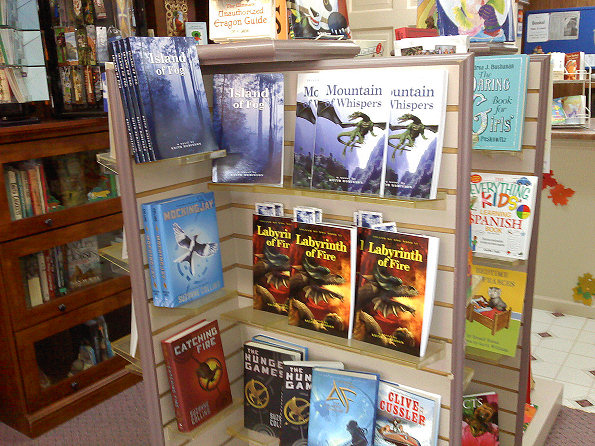 This beats my display at Barnes & Noble! Also, the copies you see in this picture are signed. Notice how I'm right there with the hottest books on the market at the moment, The Hunger Games and its sequels? Oh yes.
If you're local and wanting a copy of one of these books, pop in to Books Never-Ending. If you're heading along Cloud Springs Road toward the I-75, it's on the left just past Mack Smith Road. The store is worth a visit anyway; there's a huge selection of books, new and secondhand, and the staff are very friendly. I also like the cozy little wicker armchairs and mini-sofas dotted around the place, so you can sit down and relax.
The store is bigger than you think. Although it has one small shopfront, Danielle has actually taken over the whole building... and all the neighboring houses, garages, and basements, and connected them all with an underground labyrinth of tunnels. (Well, maybe not, but wouldn't that be cool?)
The display looks marvellous, Keith! And you're ABOVE "The Hunger Games" - far more prominent and noticeable!
That's an impressive display, Keith! You must be feeling proud.
What an amazing feeling to see your own books on display in a proper book shop! Well done, old thing!
Glad to hear they're selling well.

What are the books in the glass display cabinets to the back left. They look intriguing. :-)
I can only say what everyone else has already said. A really lovely display, Keith. You must be chuffed to bits.
Thanks all!

And Ralph, when I find out what those books are in the back, I'll let you know.
Post a comment...
Blog posts by date...
December 2017
November 2017