Book signing at Barnes & Noble, Chattanooga, TN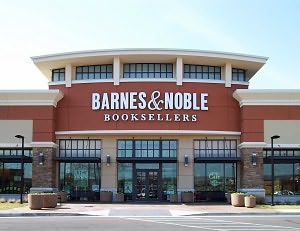 As the title suggests, Barnes & Noble has invited me along to a book signing at the Hamilton Place store in Chattanooga. So if you're local and can drop by on April 16th, please do so! I'll be there with three other authors in the young readers category, and of course will be signing copies of the three Island of Fog books.
As a bonus, I'll be giving away free print-outs of the opening chapters of Book 4, Lake of Spirits, which I expect to publish this summer.
These print-outs are only available at bookstore signings! Although I normally print the opening chapters of each book on this website prior to publication, I won't be doing so for Lake of Spirits until at least June 2011. So if you want an early sneak preview, pop along to Barnes & Noble on Saturday 16th April between 12pm and 3pm.
See you there!
Hey! Not fair! What about us loyal readers that can't make it to Chadannokie? Come on, can you email us a copy?
That's an impressive-looking shop front, Keith! It's a bit too far for me to come but I hope the day goes well.
That's a good point, Brian. An emailed copy can certainly be arranged for loyal readers. All you need to do is scan a copy of a bill or something that has your address on it, to prove you don't live anywhere close. :-D

Anita, bookstores in the US don't get much more impressive than Barnes & Noble; think of Waterstones in the UK and that's a pretty good comparison. I just wish I could get my books into ALL the stores across the country, but you kind of have to be a Big Name Author for that.
Choo-choo!
Very nice, Keith! Hope all goes well and you sign lots of books. Congratulations!
Hey Keith! I'm an employee at the Barnes and Noble in Chattanooga. We met once back in the kids section a while back. I've read the first two books of your series since then and I couldn't put them down. I'll be there Saturday even though I'm not working!
Thanks, Joseph! :-) Be great to see you on Saturday. I remember meeting you but can't put a face to you, so it'll be good to do that!

I received an email today from Adam Anderson (Community Relations Manager at Barnes & Noble), who said: "I wanted to let you know that we have already started to see customers buy your books (we have them on display in the front of the store). Hopefully it will be a large turn out on Saturday."

Rock on! I can't wait to see my books on display. At the front of the store, no less. In Barnes & Noble. Another dream of mine comes true... :-)
Sounds like the day should be a good one. That IS indeed one impressive storefront. Looking forward to the next book. Take care.
Hey Keith! We talked a bit today at Barnes and Noble. I was wearing a blue hoodie and we briefly talked about Magpie Windwitch, or rather I talked about her. I hope the rest of your signing went well. I am excited to dig into Island of Fog and let you know what I think about it.
Thanks Dave — it went fine, very busy, although not as many sold as hoped. More on this in my next post!

Chris, good to meet you, and hope you enjoy Island of Fog. Thanks for introducing me to Magpie Windwitch, too — the book has 74 reviews on Amazon; 69 of them are 5/5 stars while the other 5 are 4/5 stars. That's a pretty good reason to give it a try! :-)
Post a comment...
Blog posts by date...
December 2017
November 2017