Book cover comparison
I've been waiting impatiently for the proof copy of Labyrinth of Fire to arrive, and finally it showed up today. It looks exactly as I expected it to look, and I'm very happy, especially when stood next to Island of Fog on my shelf! Fills me with warm fuzzies. :-)
Speaking of book cover comparisons, Island of Fog has been through two or three minor revisions since April, and we're talking very minor edits to fix a couple of typos and re-word a sentence or two. But the latest revision also included updates to the spine text and back cover, as you can see below.
Since Labyrinth of Fire follows through with the same layout, both books match perfectly... unless you have that first edition of Island of Fog. Most readers probably wouldn't care much about this sort of thing, but as a collector I like things to match (I'm funny like that). So, in the interest of matching book covers (and slightly updated text), would those who bought the first edition be interested in a replacement book at production cost only, shipped when you buy the second book? Contact me privately for details.
Here's the first edition...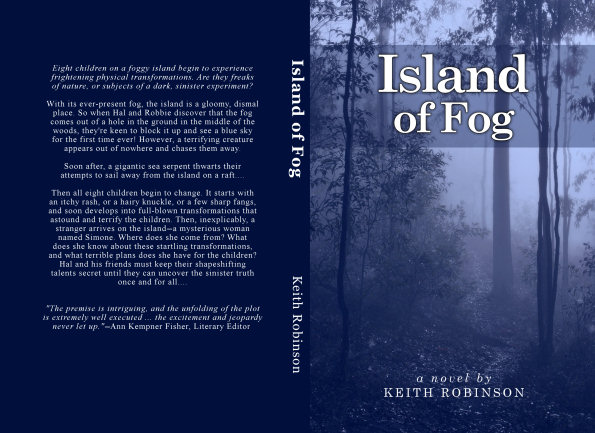 Full cover – Island of Fog (1st edition)
I wasn't happy with the centered text so I left-aligned it instead. Also I added Piers Anthony's blurb, a price, the genre, age classification, and a little picture! The spine text is capitalized too. Here's the latest version of Book 1 along with Book 2...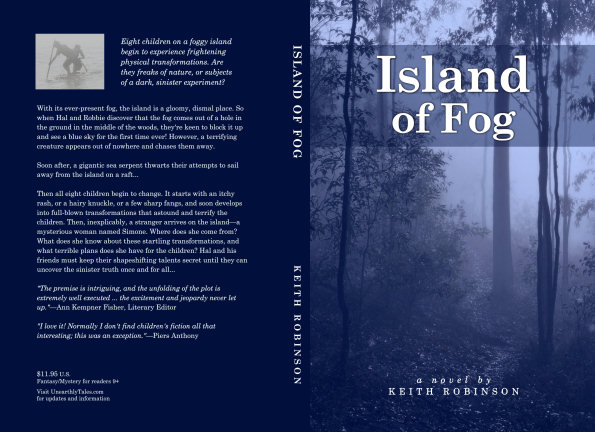 Full cover – Island of Fog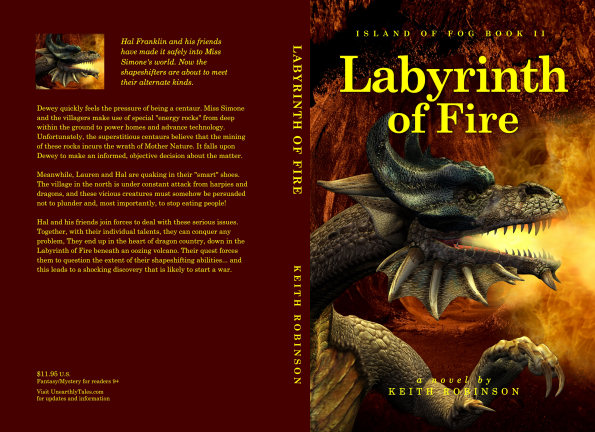 Full cover – Labyrinth of Fire
There's a space below the text where I'll hopefully add some blurb saying "fantastic, wonderful, etc," before I launch. In any case, one thing I can promise is that this layout will carry through to Book 3 early next year!
My next job is to read Labyrinth of Fire (again) and mark corrections with a red pen. Meanwhile, I have two proofreaders working their way through. Assuming their suggestions are simple line-edits, I should be well on target to launch in early November.
Island of Fog Book I perhaps...

I love the back redesign. I think you should change the LoF back pic to match the style of IoF. It's looking like the first edition will be a future collectors item!!
Looking good, Keith! Shrewd move, by the way, to make some alterations to the cover. Should result in a few extra sales! ;-)
That's great, Keith! Looking forward to Labyrinth of Fire! :-)
Great covers, Keith. I love the fact that you have used contrasting colours for each cover.
What a striking cover, Keith. It looks good. Very tempting to pick up that book and read what's inside.
Post a comment...
Blog posts by date...
December 2017
November 2017