Author Keith Robinson's Fantasy Novels Make Front Page With Chickamauga Library Book Signing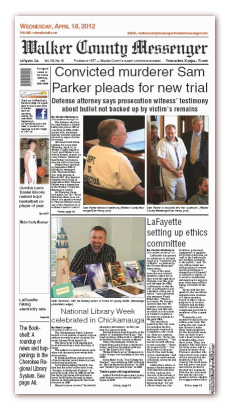 You'll have to excuse the pompous title of this post – I just couldn't help getting into newspaper journalist mode after seeing myself plastered across the front page of the Walker County Messenger. Hehe.
That's me BELOW the story about the convicted murderer, just so we're clear.
I'm sitting with my trusty lighthouse prop which never fails to fascinate passersby (even if they're not interested in the books). It only cost me $10. And there are real shells on the table as well. Daughter Lily arranged them.
Matt Ledger, the reporter, did a great job writing up the story. The only thing I would want to change is the word "superheroes." My characters do transform into creatures, but they're not superheroes and they don't have superpowers – although I suppose ordinary folk might think of our young shapeshifters as pretty extraordinary, so maybe "superheroes" isn't too far from the truth!
Anyway, read all about it below...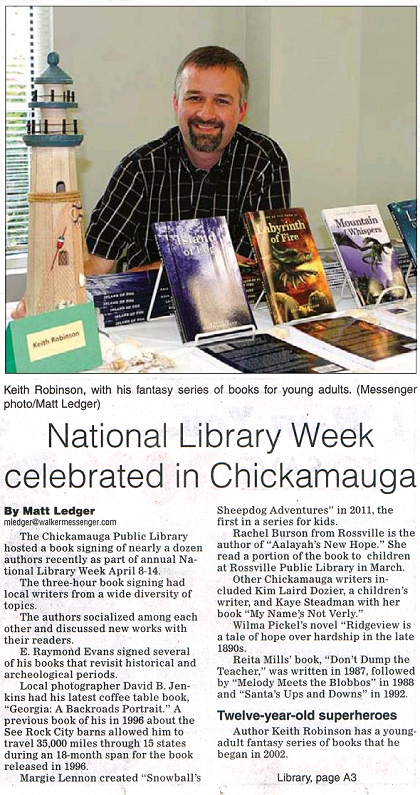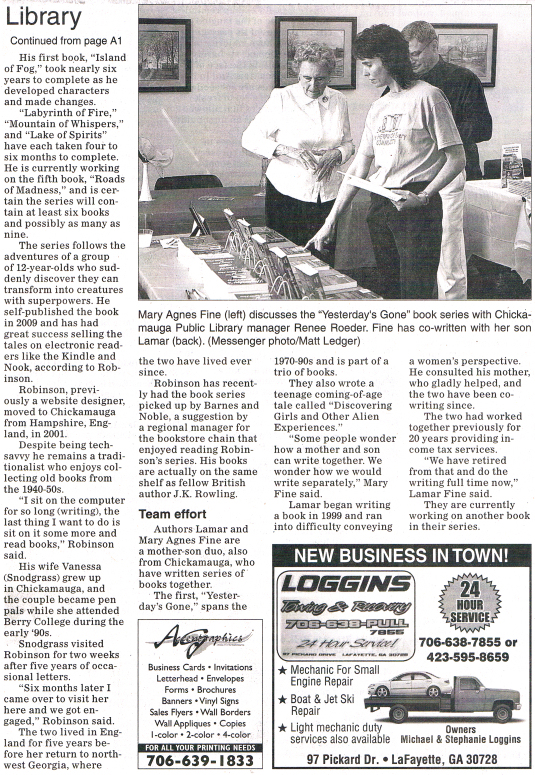 I keep telling you that you will soon be as well known as J.K.Rowling. Thumbs UP.
J.K. who? ;-)
Very cool. Thanks for clarifying that you were not the convicted murderer. Though I would rooted for you. Island of Fog is excellent and Labyrinth of Fire is on my to read list.
Thanks Stephanie! I think it would be hard to type with those manacles. And without a computer. :-)
Great stuff. I too ended up in the US after coming over initially for a six month contract and met my future wife in Boston - that was 11 years ago. Funny old world.
Well! Funny old world indeed! I originally thought you were British and was surprised when I had to send your books to Boston. Maybe you told me all this before... or maybe I just picked up your accent. (Although, as we both know, it's these Americans who have accents, not us.)
"Previously a website designer" — glad to hear writing profits have allowed you to give up the day job. ;-)
Yeah, right. :-p
Very nice! I would've accorded you extra points for photo bombing Ms. Fine's snap.
Yes, I feel a bit guilty for hogging the limelight! Wasn't my fault though, honest.
I don't think you were hogging the limelight at all. You happen to have a story that the reporter thought was quite interesting. The imp in me was just musing how it would've been funny to see you work your way into the Fines photo for a PR coup de gras. ;c)
Post a comment...
Blog posts by date...
December 2017
November 2017