Author copyright
I spent a lot of the weekend dealing with a case of copyright infringement in the form of a book that popped up on Amazon. This has nothing do with my Island of Fog series though! In case you don't know, I run EnidBlyton.net, a fan site for the famous English author who died in 1968. Where America had the Hardy Boys, Nancy Drew, Brains Benton, and the Three Investigators, the rest of the world enjoyed Enid Blyton's adventures and mysteries throughout the 1940s and 1950s. So my website is all about the books, and contains reviews and articles... and fan fiction.
Fan fiction, or fanfic, is usually in the form of short stories, but also full-length novels, based on already-famous characters. Star Trek has fanfic. Doctor Who has fanfic. Just about every cult TV show you can think of most likely has fanfic. It's exactly the same with books, and while it's generally considered copyright infringement to base fiction on an established series, it's not really a problem when the fanfic is presented for free viewing within an online fan community. It's what fans do, right? Writing stories for other fans to enjoy is just part of the fun.
So my site has fanfic too, based on a number of popular Enid Blyton series. I wrote a full-length novel once, long ago, and it's available to read for free. Others have sent in short stories too, for inclusion in the fanfic section. One lady in the UK has been writing short stories for years, one by one, and these are all listed under the heading The Five Find-Outers in Retirement.
The Five Find-Outers were always my favorite. Despite their silly title, the Find-Outers solved fifteen mysteries in their picturesque village of Peterswood. Since the author's death, many, many fans have written the "sixteenth" novel (including me!). To date, Julie Heginbotham has written thirteen short stories about this plucky gang of sleuths for inclusion on my website. In her stories, the gang has grown up and is in retirement – hence the title for her series.
That's the background. Now back to the copyright infringement part. A book popped up on Amazon (in both the UK and the US) called The Five Find-Outers Return to Peterswood by M. E. Rosson, published by CreateSpace. The Blytonites on the Enid Blyton Society forums at first joked about it, suggesting it sounded like Julie's stories! I downloaded a free sample of the electronic edition, which included three chapters. To my horror, the three chapters I saw were in fact Julie's first three short stories. In the book, the chapter titles had been altered slightly, but the text itself was identical to that displayed on my website. When I bought the entire electronic edition (and returned it afterward for a refund) I saw that the book contained thirteen chapters – all thirteen of Julie's stories to date.
I only put the thirteenth story online in June, and this book came along in July. Naturally I emailed Rosson about this, and he was very short with his answer, saying he had published the book "very legally" and had had permission from the original author. This was obviously not true; Julie was even more shocked than I was. Rosson said that he had obtained the stories from another source and insisted that he had been given permission. Whether that's true or not doesn't matter, because the stories still weren't his to use. He refused to tell me where he had obtained them from, only saying that the person was now "denying any such permission," but he insisted he "still had the emails" to prove it... and yet he refused to let me see. That's up to him, but he didn't exactly go out of his way to prove his innocence.
After a storm of emails, forum posts and negative reviews from a legion of Enid Blyton fans and also angry authors at CreateSpace (the publisher), Rosson agreed to remove the book. He didn't do this graciously; instead he continued to be rude about it and added a few more ridiculous statements. When I mentioned the cover art, he said, "I do my own covers!" But he actually stole an old Will Scott book cover and put his name on it: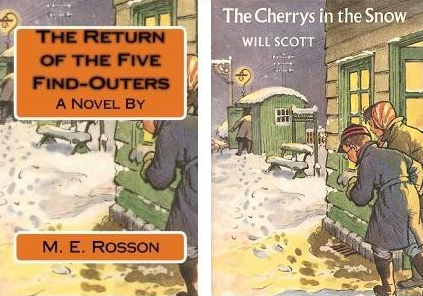 The cover clearly says "A Novel by M. E. Rosson" even though he didn't write a single word. (Actually, there are a few lines in the back that were not written by Julie, so presumably Rosson wrote those. It was a short epilogue where the main characters died. Nice.) In the front few pages he wrote:
"I have enjoyed the works of Enid Blyton as a child and later as an adult. In a world of gritty and sometimes vulgar literature, her works were a breath of fresh air. I was convinced that I could re-create the atmosphere of her works, although no-one can write as she did. I hope you enjoy my attempts and I want to thank all the unpublished works that were sent in as short stories about these characters that has given me the idea for these stories."
This further implies that he wrote the stories/chapters himself. All the short stories gave him the idea for the novel? The short stories WERE the novel!
The book price was listed at $18.99, and the Kindle price $5.99. But Rosson insisted all the money was going to charity, even though there was no mention of this anywhere on the Amazon pages.
I could go on, but I have work to do, things to write, and a life to get back to. But this serves as a reminder to all writers, including me, to get your work officially copyrighted before releasing any of it online. In the US you can use www.copyright.gov, which is where I've copyrighted my three Island of Fog novels. It only costs $35 each. In the UK you can use services such as www.copyrightservice.co.uk.
After a number of complaints from various sources indicating that foul play has taken place, Amazon has now suspended Rosson's book pending further investigation. Meanwhile, Rosson, who has a number of Bible-related books to his name and was once a pastor, should try practicing what he preaches. In his product description, he says,"...this book will take you back to the beginning of it all and remind you of a time when right was right and wrong was punished."
Judging by his product description, I'm not surprised he chose not to write a single word:

"...a time when right was right and wrong was punished."

There's just so much wrong with this sentence...!
Not only was the text of the book stolen property, his "original" cover was, too! What a scoundrel! A very lazy and stupid scoundrel, at that.

It's an eye opener to learn such people exist — thieves who are not above "re-purposing" someone else's hard work/intellectual property for their own gain. That he believed no one would notice is even more astounding.

Good work, Keith!
He should be arrested for bad graphics. Why was I not surprised when I saw "bible-related books" in the description?!
Excuse my lack of eloquence, but holy crap! How in the world did he think he would get away with something like that?!

Literally, that was my fear with my novel, since I first published it as a fanfic. Someone else could have done what I eventually did, and simply change the names, remove the copyrighted elements, and then turn around and publish it. I shudder to think. I wouldn't have had a leg to stand on (I don't think), because I didn't get any kind of copyright on it. I didn't figure I would need to, what with it being a fanfic.

Good for you for catching this, and for calling the guy out on it!
Yes, Keith was certainly quick off the mark once this was brought to his attention. I still can't believe that a man of the Church could be such a thief. It takes all kinds, I guess. It still makes me angry when I read this man's words that Keith has printed, 'THAT HAS GIVEN ME THE IDEA FOR THESE STORIES!!' These stories were NOT his idea, but mine. How dare he!!!!
As I half-expected, Rosson has now left negative feedback on two of my own books:

- Island of Fog
- Labyrinth of Fire

I'm not too worried. I've reported him to Amazon for bad conduct and another author has already jumped in and counter-responded to his feedback (read the comments underneath the reviews).

Even if his reviews remain online, I hope eventually they'll be buried under the weight of great reviews! (hint, hint) :-)
A third negative review.
Oh, yeah, I know, Ralph, but I didn't think that one was worth mentioning — the competition is over anyway! But he catches himself out here:

"I was very disappointment and the sample was not enough to make me want to buy the book."

Oh, so he didn't buy the book after all, then...?
He was very "disappointment" was he?!? Call himself an author! I'm shocked by reading about all this, and very glad you took the trouble to stand up for Julie's stories and her moral right to be acknowledged as the author.
What a sad excuse for a man - let alone a parson! I have reported his posts, but I don't think he will stop. They say, "Hell hath no fury like a woman scorned." Maybe it should read, "...like a thieving scoundrel revealed!"
No need to pay $35 for copyrighting. Once you put pen to paper, you own the copyright.

This guy was a real piece of work. Glad you shut him down.
You're right, Dan, and when I suggested getting the work copyrighted for $35, in fact I meant getting your copyright registered — a big difference. All work is automatically copyrighted by the owner, as you said, but unfortunately that means diddly if you can't prove it, so registering your work for $35 at copyright.gov is a way to prove your copyright... although even this means nothing if you stole the work in the first place! But what the registration does is allow you to take thieves to court; apparently an official copyright registration is the minimum requirement when taking legal action.
Post a comment...
Blog posts by date...
December 2017
November 2017