Advertising and promoting an ebook with BookBub
There are a ton of places to promote an ebook, some of them free and others that ask for money. I've always been reluctant to hand over cash (cuz I'm cheap), but I heard really good things about BookBub and decided to give them a try. Were they worth it? Read on and find out...
Bear in mind that I decided to make Book 1 of the ISLAND OF FOG series free forever. It's a marketing ploy. People will happily download free books, and some will get around to reading it, and some more will like it and buy the rest of the books in the series. It's a numbers game; of the readers who download the free Book 1, a very small percentage will become paying fans of the rest of the books, so you need a lot of downloads to make some real sales. I always heard that 3000+ downloads is the number to shoot for to make any promotion worthwhile.
This is certainly true in my own experience. My first KDP Select promotion with Amazon yielded about 6000 downloads, and I had the best sales ever, 645 books sold in the US. In the interest of useful comparisons, I typically sell about 150-250 a month, so 645 was a great boost for me. Subsequent promotions nabbed as high as 5000 downloads (well worth it) and as low as a measly 800 downloads (almost useless, only boosting my sales a little).
I'd already made Island of Fog (Book 1) free at Kobo and Apple. Then Amazon price-matched it and set the price to $0.00 as well. I got a sudden, unexpected boost just because it was free; it was auto-listed on many different sites. In the remaining nine days of the month, the book was downloaded 6732 times. Without the downloads I probably would have made about 175 sales in June, but this number was boosted to 221 and would have been more had the sales not spilled over into July. So naturally I started July strong, and the book was still being downloaded about 100 times a day when my BookBub ad kicked in on July 2nd.
I'd signed up for BookBub a few days before, and my book was approved to be included in their mail-blast in the Children's and Middle Grade section for free books, costing me $30 to reach 40,000+ readers. I'd worked out that if a reader likes the free Book 1 and buys the others in the series, that would be $13.96 total profit, so in theory I needed to gain only three new fans to get my money back. So I was fairly confident I wouldn't lose out. :-)
I was at 120-ish downloads before the BookBub email went out around midday. I then gained 1300 downloads between 12-3pm (three hours). I kept a running list:
Midday – 120
3:00pm – 1446
4:00pm – 1745
4:10pm – 1913 (yes, just ten minutes later!)
4:30pm – 2165
5:30pm – 2777
6:40pm – 3327
7:40pm – 3573
8:20pm – 5264
...and so on.
It's hard to say when it "ended" because it never did. It just slowed. After a few days the download rate had dropped to about 250 a day, then 200 a day, and now – nearing the end of July – it's just about managing 100 a day, which is what it was doing before The BookBub Experience.
Overall so far? It's July 25th and the total number of downloads is now at 11,019, and I'm guessing it will reach about 11,600 by the end of the month. Update: The final tally of downloads for Amazon.com was in fact exactly 11,600. Weird!!
Island of Fog reached #27 in the Kindle Store, my highest ever: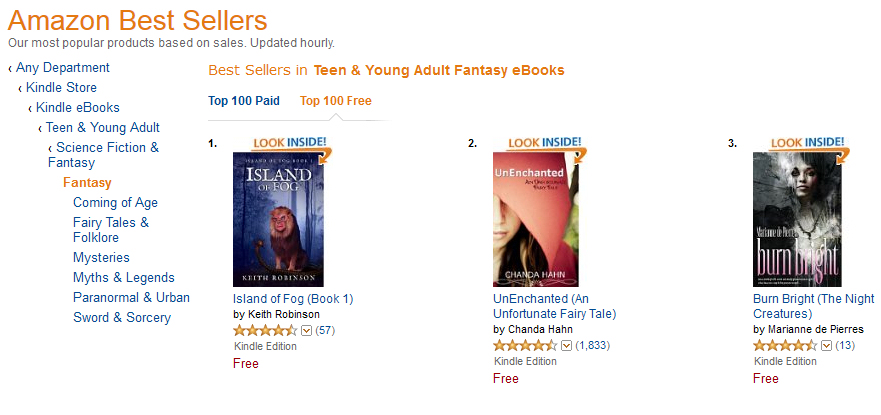 So what did all this do for my sales? Did I win three extra fans and get my money back? Why, yes! Sales this month have been the best ever. My previous record was 645 in one month, but for direct comparison, July so far is now at 665 on Amazon.com plus about 75 on Apple and 19 on Barnes & Noble. So it's definitely a pick-me-up from my usual! I estimate a combined total of about 900+ if things keep chugging as they have been. Update: Final total of book sales in July is 968 across the entire 6-books series (805 on Amazon.com, 47 on other Amazon sites, 91 on Apple, 6 on Kobo, and 19 on Barnes & Noble).
Obviously BookBub worked for me. I'd happily pay them $100 or more each month if they'd let me. Unfortunately they like to keep things fresh and won't let the same author promote the same book more than once every 120 days. Sigh. I suspect the first BookBub advert is always the best anyway... but then again, only 11,000 out of 40,000 downloaded it, so there are still a bunch left...
And there are other categories. Check 'em out. I could switch to, say, Fantasy and pay $90 for 230,000 subscribers. The mind boggles. But I must wait my turn and hope they approve me next time I apply.
In the meantime, though, I need to try something else. I'm gearing up for another promotional boost in the first week of August. I've applied to many free sites plus a couple of paid ones. The one I'm most interested in this time is Freebooksy... but more on that another time.
A final word, then, for those who are interested in trying BookBub:
Do it. Do it NOW.
I actually found you because I was thinking about advertising on BookBub and saw your book there. As soon as I get book 2 ready to go I'm going to try it out. Thanks for the report!
Thanks for breaking this down for us. A fascinating read. Congrats on the increased sales, too! It sounds like you've hit on a marketing plan that's really working.
You're both welcome! I often blog about stuff I want to know myself, and this is a good case of that; I only tried BookBub because of all the good reports I'd read. Next month, hopefully I can report in a similar way about Freebooksy... but we'll see!
BookBub sounds like a good system and a great deal. Congratulations on being accepted for their promotion. I'm glad it worked out for you the way it did. What happened was to fuel sales of other books that weren't free... so can you see a way to utilize the BookBub model for a sole-book offering? Curious to hear your thoughts.
Thanks Carey — and a single book offering is not a problem. Just don't make it free. Price it at $0.99, which is good enough to be accepted by BookBub as a bargain from the regular price of $2.99, $3.99, or whatever. You'll make money on those sales.
personally, I think island of fog is way to good a read to be free.
Thanks Hakeem, but a free book that's been downloaded by 11,500 people this month is worth more than a priced book that hasn't. It's being seen by many more people, and as a result the other books in the series are selling more. So at the moment this permafree think is working out for me — for now at least!
Help can't stop reading...love the back ground story too!
Just finished today great series
I've been reading good positive feedback from many authors using Bookbub. I'm definitely going to try them out. Thanks for sharing your experience.
Good luck, Rachel!
Post a comment...
Blog posts by date...
December 2017
November 2017