Abigail doesn't sing!
Edit: Excuse the strange title of this post – I've had to hide some of the text I'd written until further notice! A shame, but hopefully I'll re-post the original text at a later date.
A mixed set of things to report since my last post. Actually, most happened in the last couple of days.
I was about to put in an order for more Island of Fog and Labyrinth of Fire books when I got an email from a 7th grade teacher at Gordon Lee Middle School here in Chickamauga. (My little girl goes to the same school, although she's in Elementary.) He wanted to put in a bulk order of 30 copies of each book, so I gave him a good price and I've now added those to my order. When he receives the books, the whole class will be reading Island of Fog... hopefully finishing just before school does on May 21st. They'll get to the second book when school resumes.
The teacher also wants me to pop in after they've finished and talk to the class, answer questions, etc, which I'm really looking forward to. That should be fun!
Meanwhile, I got a fairly negative ABNA review. This is the first negative review I've received so far, ever! It didn't bother me one bit, at least after I'd digested it. The funny thing is that the reviewer still gave the book four out of five stars, but I suspect that was just out of kindness; an honest review but without damaging the rating. Anyway, the review (by Gypsy) can be read along with three positive ones here. I don't mind negative reviews as long as they're intelligent ones, and this one isn't particularly bad. The book is what it is, and I can't please everyone!
And there's the other thing that I can't talk about yet. This is the problem with legalities – they get in the way of a ripping good yarn. Well, hopefully I can post the original text again later. Sorry!
Finally, I'm 80% through Mountain of Whispers as I write this post. I hope to finish the first draft in the next week so I can get cracking on edits.
Keith, Wow that is great progress. It seems you are making progress in letting your local community know about your books. So you are 80 percent through with Mountain of Whispers! It seems you are almost as fast as Enid Blyton in your writing. I am learning a lot from your experiences as I try to let my community know more about my book. So far one local newspaper has interviewed me and published the interview. Unfortunately, the news section of it is not connected to the web. If or when it does, I will let everyone know.
I see you're 94% of the way through your Mountain of Wispas, Keith. I too get chocolate cravings once in a while! ;-) Seriously, you're making good progress up the mountain and I hope you'll be able to stick that flag in the summit any day now. Then the hard slog will be over and you can enjoy the perhaps rather more relaxed editing process.
Stephen, if I were as fast as Enid Blyton, who could type 10,000 words a day, then I would have been done with Mountain of Whispers in about ten days — which is a staggering thought!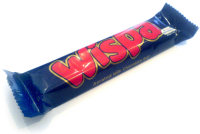 Anita, I'm thinking of adding a scene just for you, where a great chocolate monster emerges from a cave at the foot of the mountain, gripping empty wrappers in his paws and growling about someone stealing his munchies. But I don't know... I'm not sure it would fit the story...

But yes, the "slog" will be over in a few days from now and then the editing begins. The first draft is not really a slog, but is the bulk of the work. And when I say "first draft" it sounds like it's really rough, but it's not that bad — just a case of rewording things as I go through. I hope to be done with the first edit in a couple of weeks; after that I'll get down to the really close-up work.
If Anita gets a Mountain of Wispas will you make a Mountain of Maltesers for me?
Hmm, yes, maybe Hal and Abigail find some treasure and try to replace it with a bag of sand to avoid setting off booby-traps, but the bag is too light so a giant chocolate Malteser starts rolling down the tunnel toward them...
Post a comment...
Blog posts by date...
December 2017
November 2017